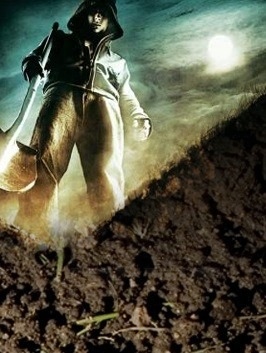 Sometimes so much time goes by between episodes I start to think was never really sick. I start to tell myself that maybe I was never really bipolar. Maybe I was just depressed. Maybe all I ever needed was someone like Remi to come into my life and heal me with her love. The healthy, stable days can stretch out before me for weeks on end and the dark, deadly days I once lived through like a nightmare I couldn't wake up from seem more like a mirage in the distant desert of my memory.
That lie starts to give me hope and I start to plan my future around it. If I can be "this productive" every day then there's nothing I can't do! I make big plans and dream about lofty goals I had long given up on. I can see my future with Remi, and how proud she will be of her successful, healthy wife. I thank God for all the blessings in my life. Everything seems to be bright and shiny. I look in the mirror and I don't hate what I see.
Life smells sweet, like jasmine in the night air.
Then I come crashing back down. I don't just crash back down to reality. I keep falling so far past reality, into a hellish existence where everything is black and I lose control of myself.
It's a reawakening of sorts. It's like waking up in a glass coffin and seeing the world disappear under the crushing amounts of dirt being thrown on top of you. It's just a reminder of what I really am. It's a loud voice screaming inside my head that says, "You will never be normal. You will never be ok. You will never get away from this. You will always ruin the most important days in your life and the lives of the ones you love. You are ruined. You are broken."
I recently had one of these reawakenings in a hotel room, in the middle of nowhere. Remi and I were out of town visiting some of her family. Something as simple as a weekend trip can start to get to me. It starts out as a little knot in my stomach when I hear we're going somewhere. I've always hated family functions, even my own. Or any function really. Just to give you an idea, I was Valedictorian of my high school class and was supposed to give the commencement speech at graduation. I had it all written out, I'm not afraid of performing (which is bizarre because I've always been able to act or dance in front of huge crowds). But the day of graduation, I couldn't go. Both my parents were all ready to go and waiting for me when I simply announced, I wasn't going. I let my parents down, my teachers and my classmates. But I felt like I would rather kill myself then go.
That has been a theme throughout my life. Missing important events or braving them, only to fall apart at or right after. And when I fall apart, it can be very dangerous and sometimes bloody. I have the scars to prove it. I have scars over scars. It seems like they'll never heal sometimes. Times like these I can't understand how Remi can love me. I fear that it'll one day drive her away. She's only human after all.
So yea. I fucked up another event. Just call me Debbie Downer. I finally hit my breaking point and tried to leave in the middle of the night to go home. Remi and I got into a huge fight and when she left me alone in the hotel room I lost it. I totally and completely lost it. She must have felt something because she came back for me. She realized then what was really going on. She packed everything up, put me in the car and drove me home in the middle of the night. She's my saving grace.
Walking to the car in my pajamas, holding my favorite pillow I took with me from home and feeling like a lost child, that voice raged inside my head and it reminded me of what I was arrogant enough to lose sight of for a few days, "You are ruined. You are broken. You ruin everything and you will never be normal. This is your life, don't kid yourself. You will never be ok."