I had never really realized who Florence and the Machine were until New Year's eve. When I saw her perform one of her songs. I was totally hooked. I loved everything about her performance. I loved her eccentric style. I loved the way she just stood there, taking complete charge of the stage and of that moment. Because in that moment, she didn't need any backup dancers dressed like hookers. She didn't to bend over and shake her money maker. She didn't have to do anything expect stand there and sing. And sing she did.
There is something so powerful about a woman that can just allow you to enjoy her presence. Too often, as women and girls we are socialized to believe that if we aren't doing something for others, then we are just taking up space. But that's not true. Just being is enough. And a few women have figured that out. Dita Von Teese is another example of this. When she performs, she doesn't rush through her routine. Because she is fully aware of what a gift she is giving the viewer by simply allowing them to look at her.
But back to Florence and the Machine.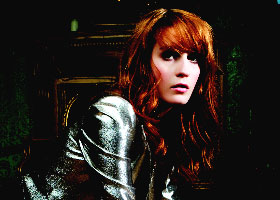 My current writing music is If only for a night. I couldn't find an official video. So I'm posting the one with the lyrics. Because I think there's a tone of lesbianism in there ….. or maybe that's just me and I think I see lesbians everywhere. LOL

If you want more of Florence, youtube her live performances. They're pretty awesome.