I'm fucked. I am so totally and royally fucked. I'm actually freaking out right now as I write this. I would be at Lana's house, but she's where I should be right now. Class.
Me? I'm home, losing it. As usual.
Let me back up a bit. The last month or more, I have no idea really, time means nothing anymore. But for way too long I've been on a pretty bad slip and slide down into my own personal hell.
Remi even took a week off work to get me out of the city. It helped, but like all good vacations, it came to an end far too soon. The temporary reprieve that the fresh mountain air provided only lasted a few days once, the hustle and bustle of LA set back in.
A few nights ago it got really bad. REALLY REALLY BAD.
The next day Remi got on the phone and ordered supplements from TrueHope. A reader and since then friend of CCL was the one to turn me on to them. I tried it once and Remi swore it worked. I swore it was just the natural cycle, and the up coincidentally coincided with my taking Truehope. Yep. That's my story and I'm sticking to it.
The thing is, it's pretty expensive. I hate to spend that much money on things like that for myself. But according to Remi, "We spend ten times that on crap we don't need. We need this and we're going to get it."
So she ordered $500 worth of it (against my bitching and yelling in the background) and it just arrived today. See?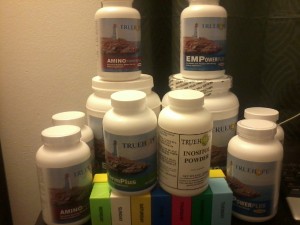 So I just started my new regimen today. To be honest, a strict vitamin/supplement program along side an equally strict exercise program is the ONLY thing that has ever helped me. Edit: I would be remiss if I didn't give every credit in the world to my dogs. Therapy dogs can save lives. While they're not trained as therapy dogs, they do the same job. Especially my boy Angel who won't stop hugging and kissing me until I'm calm.
But it's a vicious cycle. When you feel depressed the last thing you can do is pull yourself out of bed and go to the gym.
…. But I digress. Back to why I am so royally fucked right now.
I'm pretty sure I've mentioned that Remi and I are night-owls, right? Which up until now is something that she has gotten paid very well for by working the night shift. It was easy for me to get up and make her coffee and pack her lunch every morning, when our morning started at 1:00 pm. Our usual schedule for the last couple years has been go to sleep around 4:00 am and get up in the afternoon. Me likey.
Well ….. remember that nifty promotion she just got at work? I guess moving up the economical ladder comes at a price. I just heard from Remi and broke the news to me about our new schedule.
Ready? I wasn't.
4:00 am to 2:30 pm.

How the hell am I going to do that!!!!!! Anyone with bipolar knows that sleep is one of the major issues we have that can throw us over the edge. What happens when you're already there, hanging on for dear life and your schedule is literally flipped on it's head?
I'm trying to find the silver lining to this storm cloud. Trying …….. still trying ……I know it'll be OK. Or at least that's my mantra I keep repeating in my head until it starts to sound like less of a lie.