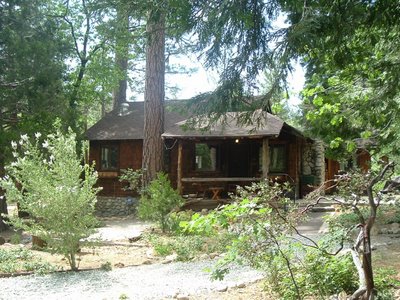 I am so sorry that I haven't written anything this week! But our little engagement honeymoon was high in the mountains, in a little cabin nestled in the woods and there wasn't any wifi there! Imagine that! We thought we couldn't live without the internet but we did just fine.
Well anyways, a dear friend of CCL, Femmelover dropped me a little email asking me to let you all know that I'm alive and kicking. So thank you for the concern FL

…. I am fine, I'm more then fine …. I'm great!!! Actually, to tell you the truth, I'm better then I have ever been!
A married friend of mine, (she's a lesbian too and she and her wife are two of our closest friends) told me that getting married changes everything for the better. While I never would have believed it before I met Remi, I can totally see that now. Since the engagement I have felt a sense of serenity and peaceful joy encompass me that I never even dreamed about before.
So please forgive me for not writing a lot lately, I'm literally basking in the joy of our new engagement and I feel a bit discombobulated since getting back to the city.
But I have lots and lots to tell you! Plus I am taking a few of your comments to heart about blogging about the wedding plans as they unfold. So I will be working on adding a little "Engaged Sasha" category because i just wouldn't be the same without you guys at every step along the way!
…… and don't worry, I haven't forgotten that I need to finish up the Tony & S saga ….. sorry to leave you dangling off that crumpling cliff for so long.