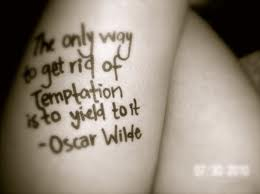 (Sorry I left you hanging … if you forgot where we left off, you can refresh your dirty little memory
here
.

)
Olivia and I ended our little outing with nothing much more then a hug at the end of the night. She was impossible to read, always stoic, remote. But there was something in her  distance that pulled me in. I wanted to know more.
Over the next few days in class, everyone noticed out blossoming new friendship. It was hard not to notice. Olivia had kept herself apart from the rest of the class the entire semester. She barely nodded an acknowledgement towards people she liked, let alone people she never even noticed. Which seemed to be most people. So when she began whispering in my ear at the barre, having lunch with me on the lawn, changing next to me in the locker room, people took notice.
My favorite dance teacher was a gay, modern dance teacher. He was very open about his sexuality and very very open about anyone else's. He was like the gay big brother I never had. For this story, I will call him Anton. One day after his class, he asked me to walk with him to his office. As we strolled through campus he looked around, waited till no one else was on earshot and then asked, "What is going on with you and Madame Olivia!?"
I wasn't surprised he asked about her. But I was taken back that he called her 'Madame'. Did he know?
"Nothing. Why? What have you heard?" I asked back.
He smirked and grabbed me by the elbow, pulling himself close to my ear as he said, "We'll if you must know, I've heard that a wolf in sheep's clothing may have a little lamb in her grasp!"
I was insulted!! I was no innocent little lamb!! So I replied in mock horror, "What!? Who are you calling a lamb?"
"So it is true!! Oh my, you're not innocent as you look … Or at least you won't be for long. Details little girl! Details or I'll flunk you." He couldn't even keep a straight face with that last threat.
I was secretly happy that people were talking about me and Olivia. I was in a relationship, with a boy at the time. But it was getting harder and harder to stay faithful. Olivia was creeping into my dreams. She was in my thoughts, she was who I saw when I closed my eyes and made love to him.
"I'll tell you everything, but only after you spill the beans about any and ALL gossip you've been hearing about me!" I demanded.
"Ah, the little lamb has leverage …. OK. Deal." he replied.
We shut ourselves up in his office to eat lunch and to talk uninterrupted by other co-eds. He didn't take much coercing and by the end of lunch I was aware of my reputation in the dance department as a promising slacker that didn't know her worth and somewhat of a mystery that had allegedly slept with several professors and was currently being trained by Olivia to be a high end call girl.
Great.
I was actually pretty impressed with myself! Since in reality, at this point in my life I had only had one lover. The boyfriend. Yep, I was still with my high school sweetheart. Gag me with a yearbook.
However, there was something about this alter-ego I was just finding out I had, that I liked! …. A lot.
I didn't know this Sasha, but I wanted to. I also found out that he was very aware of Olivia's extracurricular activities. He lived in West Hollywood and apparently, she was rather well known in some circles. But I was unaware of the fact that Olivia, occasionally took on special clients …. clients she allegedly slept with. Now I was really intrigued.
"Anton, are you serious? There is no way Olivia is sleeping with men for money!?"
He smiled and leaned back in his chair, taking his time to slowly chew the last bite of his cob salad before he leaned in and said, "Who said her clients were men?"