This is an email from my inbox today. Just wanted to share. Didn't see the point in rewriting it, so I just thought I'd let you read it for yourself.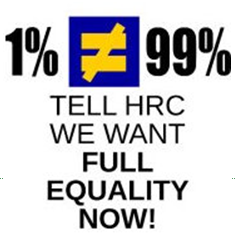 We contacted you earlier this week about Queer Occupy Wall Street's protest of the HRC NYC Gala.
Following are details of tomorrow's event, but we also wanted to call your attention to HRC's response to the news of our protest.  Their statement acknowledges how "fortunate" we Americans are to "live in a democracy where every opinion counts."
If HRC had a track record of creating processes by which people could voice opinions, and if the organization acted as though it truly believed that every opinion counted, this statement would be believable.
But HRC's process of exclusion is well known: the organization's disingenuous rhetoric should shine a bright light on the organization's failure to create an open community process.
The grassroots is increasingly asking for a comprehensive inclusive bill of rights for LGBT Americans, but HRC's alignment with the likes of Goldman Sachs shows their true colors.
********************************************************
MEDIA ALERT
NYC LGBT GRASSROOTS TO PROTEST HRC GALA SATURDAY FEBRUARY 4th
On Saturday, Feb. 4th, the Queer OWS Caucus, in an action endorsed by Queer Rising and Queerocracy, will demonstrate outside the Human Rights Campaign NYC Gala honoring the dishonorable Goldman Sachs.
Organizers will gather starting at 4 p.m. at 49th/Park and will parade picket-style along Park Avenue in front of the Waldorf at 50th/Park starting sharply at 5 p.m.  Participants are encouraged to bring white T-shirts to be painted with the word "HELP",  but all presentations and messages are welcomed.
The activists:
1.  Condemn HRC for honoring Goldman Sachs,
2.  Call upon HRC to adopt a strategy of Full Equality by 2014, and
3.  Demand that HRC create a transparent process that includes the grassroots.
Already showing its true colors, HRC spokesperson Paul Gueguierre quickly issued this pithy retort to Time Out NY about the action: "We are fortunate to live in a democracy where everyone's opinion counts."
This type of disingenuous rhetoric simply demonstrates HRC's long-standing opposition to community process, and the nobles oblige attitude they embrace.  Open the process HRC!
Dubbed the "Guerrilla Potluck for Full Equality," activists from the Radical Faeries will also bring high-design to the sidewalk demonstration with the message of "HELP".
HELP end LGBT abuse.  HELP end LGBT suicides.  HELP end LGBT discrimination.   HELP get Full Equality by 2014.
For this, we need to open the process to the people.
HELP Tell HRC (202) 628-4160:   Open the process to the grassroots LGBT community!