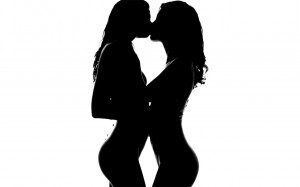 By Guest Writer, WWG
I like being single. I'm proud to say I enjoy my own company, and I'm comfortable and confident enough in my skin that I've never needed a relationship to make me happy. On the contrary, my relationships often made me feel quite unhappy. A large part of that is of course that my 20s were spent dating men, and men were clearly not for me. I mentioned in my last post that I felt like I was a commitment-phobe or just hadn't found the right man. My relationships would make me feel trapped. I realized that getting out of a relationship shouldn't feel like finally coming up for air after nearly drowning, but that's how it always felt for me.
Now I find that my dating age doesn't match my true age. Let me explain: My dating age is more about 20 years old, or when I stopped dating women (and allowing my heart to be open), yet my actual age is early 30s. The training wheels relationships that heterosexuals and those who come out early have in their 20s, when they fall in love and date for a couple of months to a few years in preparation for finding "the one" that they'll marry is not what I experienced. And yet, I struggle to define those relationships I did have. Do they "count" if I wasn't in them heart and soul? What if I felt like a fly trapped in a spider web? This is the feeling that many who come out later in life face, and I do understand why it's said that when you come out it's like a second adolescence.
Yet the lessons I learned are very real lessons and any relationship – be it friendship, coworkers, or a romantic one – can always teach you what you want and don't want in those you interact with and choose to be close to. I truly learned some great lessons from the men I dated and it did help me understand some of the characteristics I want in someone I date, because at the end of the day, humans are humans.
But my mom has said to me that I haven't had a true romantic relationship as an adult, and I know she's right. I have been on several dates with women since I came out again, and the difficulty was that none of them were IT. It was frustrating because like everyone, I hoped that coming out would lead me to feeling something for someone. Dating women again finally and not feeling the spark was doubly frustrating. Some women come out to themselves because they fall madly in love. I came out to myself (again) by process of deduction. How boring!
But then! I dated someone who I really liked. And that first kiss! That first kiss restored my faith in my orientation. It restored my faith in myself. And it restored my faith that I too have the possibility of finding love for myself. And I gushed. I, Ms. Cold-Hearted, Never Interested, Happily Single Thank You Very Much, was gushing. And glowing. And dreaming of and planning to have her meet my friends. I talked about her to my parents. Good god I had become everything I never understood before (and kind of ridiculed. Oops)! I even may have pictured her in a tux. Yeah, I went there. UGH! I had suddenly become the queer Jennifer Love Hewitt, planning my wedding in every season and – okay, I didn't go that far, but you get the picture.
It was a short-lived relationship. But for the first time in many years, that was not by my choice. Part of me was of course disappointed and hurt by its ending, but a larger part of me was actually grateful that I was being broken up with. For once, it was my heart that – well, it wasn't getting broken because we hadn't begun to get to that point – had opened up and was being told to close to itself to this relationship. I've been in that position way too many times, telling some man (mostly) or woman that my heart that they wanted so badly will never be theirs. It is a different kind of heartbreak to see someone say that they care about you, want to love you, think the world of you, and you have to say that you don't feel the same about them. Being the breaker upper is no easier than being broken up with.
As I have come out again and experienced that feeling of hope, of desire, of wanting someone's interest rather than dreading it, the reality that I may at some point not be single is a shock to the system and one I'm slowly coming to terms with. Because the relationships I was in didn't engage my heart completely, I have never quite felt "taken". Indeed, my previous relationships with men were like always living in rental apartments all your life, and suddenly, I'm going to be buying a house! Chimney flue? Shingles? Aren't those illnesses? Will buying the house – being with someone in a relationship – make me feel ill again? Claustrophobic? Drowning? Stressed? Angry? Or will it make me feel safe, secure, and relaxed and incredibly content knowing that This House Is Mine?
And I've decided – I would like to know what it's like to feel and fall so deeply in love again. I would like to know what it's like to have my heart soar again, and to have my heart break again. I like being single. I enjoy my own company. But you know what? I'd really like to be in a couple. I'd really like to enjoy the company of someone else.
And that's a coming out process of its own.