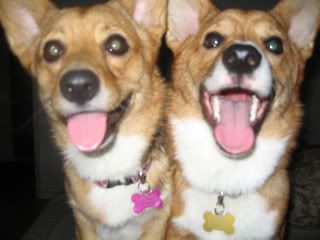 Like most lesbians, I have a bevy of furry children and they all sleep in bed in with me. Well two out of three of my little four legged kids share a bed with me and my gf. Which makes for very awkward sleeping positions when you've got one little dog that insists on sleeping at the top of the bed, above my head and sharing a pillow with me. While the other, chubbier of the two corgi's lays across the bottom half of my side of bed where my knees should be.
Hence I end up sleeping either curled into a ball with a puppy nose securely squished and snoring in my ear all night, while the queen of the family takes up the entire bottom half of my side of the bed. Or I'm in a very attractive position with my dog sleeping between my legs and the rest of me in some weird, contorted S shape that adjusts to my other dog and my gf who happens to yell at me in her sleep when she's mad at me. Great.
So it's been a month since my gf moved in and my neck and back are in dire need of a chiropractor or a king sized bed. They both cost a lot of money but are both worth every penny. I however vote for a California king sized tempurpedic bed.
But when all is said and done, at the end of the night when we turn off the lights …. nothing fills my heart with more happiness and contentment than knowing that everything I love most in life is right there in bed with me. Squished, crowded and snoring …. ahhhh one big, happy, gay family!