Remi finally got me into the chiropractor the other day and not a minute too soon! Long story short: my back is JACKED up and I have the x-rays to prove it. But the good news is with about 3 months of intensive treatments and rehab, I should be on a road to recovery. But in the mean time, I had to put my fight training on hold for the next 3 months, while I focus all my energy on getting healthy again.
I'm actually super excited about the next couple of months, because I know that if I work hard, I'll be healthier and in less pain then I've been in  YEARS. Which in turn will make me a better wife to Remi and a better friend to my framily. Yes, I said "framily" …. you know, friends that are more like family.
A few of you also asked how I'm doing with the new schedule? Amazingly well actually. While I don't get up at 2:45 a.m. with Remi, she does kiss me goodbye before she leaves. And now I get up at 7:00 a.m. (err … well …. almost) and I actually feel a huge shift in my moods already. Plus I feel like Remi and I are actually getting more time together, instead of less! I don't know how that happened, but I'm not complaining.
I am coming up on my deadline for my thesis and I have 3 1/2 days to write 40 more pages. No problemo.

I work best under pressure. Or at least that's what I'm telling myself.
I've been religious about taking my Truehope vitamin therapy and I can really see a difference in my mood and energy level. But as I sit here and write this, my back is starting to kill again, so I'm off to do my yoga. Wow, look at me getting all health nut on you guys!!!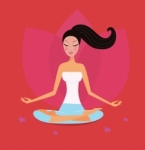 PS: Please keep your eyes out for the Gay Star Search. I really do want to try to help anyone in our community get the good word out for their projects/art or businesses.