I am so happy to give you our newest guest writer's introduction, in her own words.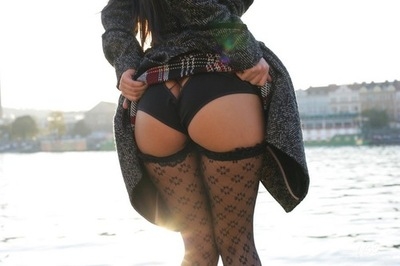 When I saw that Sasha was looking for new writers, I was thrilled and immediately jumped to respond. When she said yes to me, my first thought was "oh dear, what will I write about?" Truth be told, I still have no idea, no, not even for this intro. After all, I've been an avid reader and commenter for awhile now and you've all gotten to know me relatively well. But I realize that's not enough to say when I intend to ask you to read my writing and travel with me on my journey and ask you to open up to me about yours as well.
So, in the interest of privacy (mindful of how huge the readership is here, even if it feels small and cozy at times), I will do my best to introduce myself to you and open myself up as much as I can.
I'm WWG, I live in NYC, I am in my early 30s, and I am resolutely femme. As much as I love my heels and makeup though, I'm a pretty ballsy and bold kinda girl, or so I've been told. I do at times though feel like the epitome of femme invisibility, as people I've worked with, who openly support and push for LGBT rights, despite many hints and comments from me, are often incredibly surprised to find out I'm gay. I guess I just really don't ring anyone's gaydar? I have no problem meeting men, to my chagrin, but you lovely butch and androgynous women who I desire and often openly flirt with usually ignore me as "oh look, the straight girl wants some attention." Sigh.
And despite my comment above, let me just clarify for our purposes that I am gay, not bisexual. (Tips to our boy-parts loving sisters: be incredibly dense, don't care a bit if they want you or not, but very friendly and open and you'll have no problem meeting men. You're welcome. My bill is in the mail). However, for many years I thought I was bisexual until I finally had an epiphany (of all places, in the bedroom – and no, not with a woman! Thank god my ex has a sense of humor about himself!) that I couldn't stomach sex with men and no, I had never been in love with a man. That was 3 short years ago.
However, my story doesn't start there. It actually starts in childhood. I knew. I knew I was gay then, because Jo in the Facts of Life? Yeah, she made me sit up and pay attention! Also, Annie Lennox in the Sweet Dreams video? Yeah, I still love a woman in a suit and tie. I guess I was pretty tomboyish in a way since I was a little monkey who loved climbing everything and playing dodgeball with the boys over making up plays with the girls (although I had a HUGE temper tantrum about blush once when I was five. My parents have never let me forget that one!). When I was a tweenager, I put up pictures of male stars on my wall so if friends came over and asked why I had female stars on my wall I could say I had male stars too! (Can you just feel how straight I was? My god, I was the queen of heterosexuality dammit!)
Fast forward to teenage years (because if I sat and told you ALL of my life story, you'd probably collectively smack me for not knowing I was gay) when I came out as bisexual because my crowd was that kind of crowd where even the straight girls and boys wanted to be and said they were bisexual, in part in solidarity, and partly to be outre, so being out wasn't a big deal. We were all out, regardless of our true sexualities. We were all tra la la gay and made out randomly with each other. Welcome to high school, right?
In college, I fell in love. And she broke my heart. And stomped on it. And ripped it apart …where was I again? Oh yes. And I did exactly what every lesbian is afraid of. I ran straight into the arms of men. And then I kept dating men (unsuccessfully). And kept dating men (even more unsuccessfully). And doing crazy things while dating men and thinking I was straight like driving in a huge snowstorm on the chance of seeing a girl who had flirted with me once before at this particular singer's previous concert. And I befriended and flirted with and noticed and apparently came onto without thinking I was coming onto every butch and androgynous woman I met.
And yet, I still thought I wanted to find love with a man, and "hadn't found the right one." (I had moved myself in my mind from "bisexual" to "LUG – Lesbian Until Graduation/Straight. Charming!). Of course, the fact that all of my former classmates and friends were posting their wedding and baby pics on FB and the thought of marriage turned me into a 3 year old with my fingers in my ears screaming "lalala I can't hear youuuuuu!" somehow didn't clue me in. What? I was just a commitment-phobe, right? Yeah, that's it, a commitment-phobe! A commitment-phobe who dreaded anytime I realized a guy had a crush on me. A friendly girl who couldn't figure out why guys didn't want to still be my friends when I said I wasn't interested in dating them (I mean, we had so much in common! Why not be friends?). I was the girl who couldn't figure out why all the other girls flipped out over a guy's abs (I was a feminist! I didn't objectify men like that!). And dammit, I was straight, and women were just an early 20s experimental thing. Right?
And finally I had the epiphany above (the one in the bedroom). I adore men – as friends!! And it was aaaaaaawesome! It was the most liberating feeling to realize not that I was a cold hearted bitch who could never love someone. I was simply gay! All of the guilt and frustration I felt whenever some eligible, great, good looking, smart, together guy hit on me and I couldn't care less was alleviated. All of the feelings that I was not a relationship kind of girl evaporated. The ceaseless questioning of my shrink and gynecologist as to why I, a woman in her prime, had no desire for sex whatsoever, disappeared. I am gay. And finally, I felt right with the world. I knew, no matter if a woman broke my heart again, I wouldn't run to men. No matter if it took me awhile to find the one I connected with, I was okay with that. Because the worst date with a woman was still better than the best date with a man.
I've worked hard to become comfortable with myself since and am finally at a point where I am very comfortable with it. I mean, I came out to my manicurist! That's comfortable! (Isn't it weird all the various places you have to come out that you don't think about? "Hi manicurist, please make my nails rounded so I don't hurt a woman when I'm shoving my fingers up her pussy as fast as I can. Oh, and I think I'll go with a shell pink polish today, thanks!")
Alas, I am single, so while I still have no idea what topics I will broach, because I do want to preserve the privacy of those whom I do date, but I've got some in mind – some funny, some frustrated, and some realizations about those frustrations. Oh, and the occasional article that I think you all need to pay attention to (I warned you I'm a ballsy kinda girl).
Anyway, I love giving advice and really delving into others' posts, so please, feel free to discuss and share with me in mine.
Can't wait for all your feedback!
WWG