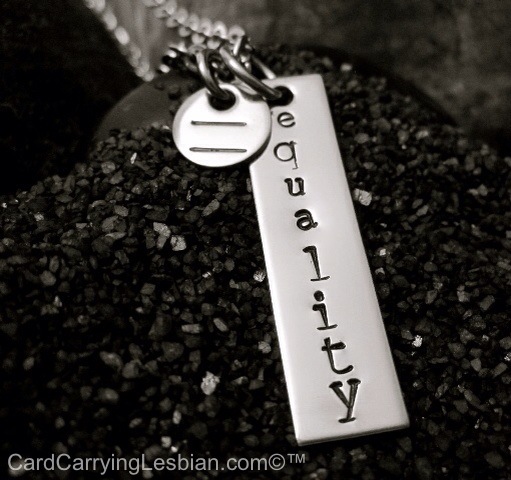 Equality Hand Stamped Stainless Steel Necklace
Show the world that EQUALITY matters to you.
This piece is definitely gender neutral. It looks great on butches and bois, but don't worry, the femme's can rock this piece just as hard.
This necklace is a two piece! It comes with a second charm, a hand stamped "equal" sign. This particular necklace is 1 1/2 inches long and comes on my favorite 20" inch stainless steel chain. But if you would rather a 30 inch stainless steel ball chain, just convo me.
I have taken extra care to make sure that EVERY bit of this particular necklace is made from USA steel. Which translates to you, as superb, beautifully crafted pieces.
All of my hand stamped pieces are made by hand, by me. Which means that no two are ever exactly alike. I make each piece as a custom order, so your particular piece will differ slightly from the photos. Any variation only proves to make yours truly unique and special.
Please allow 3 to 5 days after you place your order for me to create your hand made piece before shipping. 🙂
Good karma points: 10% of the sale of this piece will go to fight for equality for all.
———————————————————————————————————–
Stainless Steel is my new favorite metal for jewelry because:
1. It NEVER tarnishes or changes color.
2. It's strong. I mean, it's actually STEEL. Think about it. 😉
3. It has the look of platinum, without the insane price tag attached.
4. All of my steel is made in the USA: which translates to superior quality.
5. Since it's made in the USA, it has a much smaller carbon footprint, ie, it's actually a more environmentally friendly choice.
6. It's hypoallergenic!!!