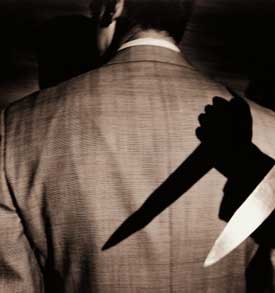 OK people, this is just a quick FYI and if you're not one of the guilty ones that this won't make much sense. But I recently realized that I could pinpoint EVERY comment to it's IP address to it's originator, regardless of the screen name you use.
It has come to my attention that a certain individual who will remain nameless, unless they want to make a scene with me …. has been bashing me in the comments section under fake screen names. While simultaneously using other fake names to build up their side of the story. While on yet ANOTHER hand (because apparently underhanded people have many hands with which to stab you in the back with) has pretended to be my and Remi's friend.
Comments that this person have left have had the sting of familiarity and Remi, more then I suspected that we knew who this was. At her urging, I tracked all the comments of one IP address and *voila* MANY more comments and fake names than I had even imagined came up! INCLUDING her real name. (Or screen name that I know her by, along with her personal email.)
Apparently, she wasn't as slick as she had thought she was …. because while most of her "real name" comments came from one particular IP, most of the harassing and hateful comments came from a different one, with the exception of that one tell tale comment, where she used her real name. (I suspect it's her work computer or a coffee house) And we all know, it only takes once for the truth to be revealed and it can never be untold.
So hopefully this person will read this blog because I don't want a big confrontation with them. Although I have ample … and I mean AMPLE ammunition to use should they force one. Because this here? This was just the icing on the cake! There's a whole lot more shady business they are guilty of and I would be more then happy to bring it all to light.
Me? I've got nothing to hide.
So if you're reading this and I'm pretty sure you are … I won't reveal your identity. Not out of respect for you, because you have shown me and my friendship NONE. In fact you have disrespected me and Remi more times then I care to count. But I kept giving you the benefit of the doubt. Well, the cold hard truth is hard to ignore and I have all the proof I need in black and white right in front of me.
So like I said, I won't reveal your true name, because while you deserve it. I like to think that I've held myself to a higher standard then you have held yourself to and I will continue to do so. If we meet at some random lesbian joint, I will be cordial. No matter how you conduct yourself.
In case readers were wondering … I will let you see two of her "fake comments" under one her "fake names" …. this just that really hit below the belt, coming from a so-called-friend.
Weaksauce: Seriously? This the big revelation and conclusion? Sometimes I think you just get off on hearing yourself "speak" or write. Engaged or not you thrive on drama and live to retell it. Bring back the other writers! Remi good luck – I'd hate to be with anyone who can so quickly recall EVERY single detail of all her sexual escapades for her own pleasure and those around her.
Weaksauce: Hey DJ B & Tony –I'm definitely NOT an ex of Sasha's, biopolar, dramatic headcases are not my type …
The only reason I don't leave more of her "fake name comments" is because it would be obvious who she is, by who she so rabidly defends. Let's just say that not everyone is what they would like the world to think they are.
Good luck to you, Weaksauce. I'll call you that, because it was the most fitting of all your names. I wish you the best in your life. I really do. Just stay out of mine.