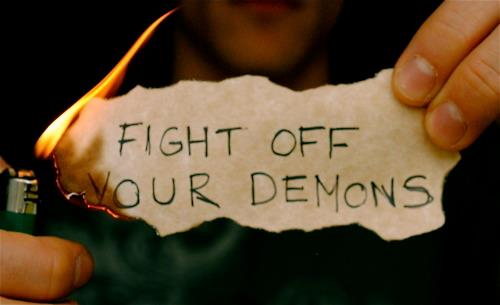 Things are getting out of control. In my head, at least. You might have noticed I took down the post about Romi because I thought it was mean. I don't take back what I said, I do think she's being disrespectful to her girlfriend and I don't think that being bipolar is an excuse for bad behavior. I do however think it can be part of a reason behind such behavior. But I took it down, because if it IS from a massive manic episode, the last thing she needs are people calling her bitch. When all is said and done, I hope she finds balance and that she's not as horrible a person as the show makes her look.
Now, onto my own bipolar issues. I'm losing it. I can feel it.
It doesn't help that Willow, my girl corgi isn't sleeping well at night because we just gave her some flea medicine which, weirdly enough only seemed to make them angry. So at night she acts like they're attacking her and we've had to make her sleep with a cone on her head so she won't bite herself.
Thursday night, for the first night in a long time, I actually felt sleepy and like I might be able to get to bed before 2:00 am. But an hour later, Willow woke me up crying that she had the cone on her head. So I woke up and stumbled around in the dark to take off her cone. Hoping that she was tired enough to just sleep through the night.
Thirty minutes later and I hear her running around the room, biting at her leg and snorting. (she's a chubby corgi and she snorts a lot) I again, stumble through the dark, not wanting to wake up my sleeping wife and put the cone back on and spray her down with cedar and tea tree oil. (Supposedly natural flea repellents) if they are, they're not working.
This went on all night long. I'm a light sleeper and the slightest whimper from one of my dogs has me wide awake, checking on them. By 7:00 am, it was time for Remi to get up and finally, Willow was worn out enough to sleep. Which meant, I could finally sleep. Sort of. I got a few hours of shut eye that morning and by the time I got out of bed, I saw that my day was half gone. I felt defeated.
Friday night, was a repeat with Willow. And before you wonder how could we let her suffer with fleas, let me tell you, we've put flea medicine on her, used all the natural remedies, given her multiple baths, changed the sheets, vacuumed, cleaned, EVERYTHING!! And our other dog, isn't having a bad time with fleas at all. So I have no idea why she's having such a bad time this summer.

So night 2 of being up with Willow all night.
Then last night, she seemed like she was going to be fine. She was sleeping peacefully by 11:00 pm. Which was good news since I felt the onset of a migraine coming on. By 2:30 am she was up, crying, running around. My migraine was full blown. I was in bed with an ice pack. Luckily, Remi, who usually sleeps through everything woke up and tried to soothe her back to sleep. But it didn't work. Willow had something like a doggy panic attack! She was running around, crying, biting at herself. We were both up trying to figure out how to help her. We took her outside to get some fresh air. Sprayed her down with tea tree and neem oil. Wrapped her up in her thunder coat, put her cone back on her, gave her rescue remedy. I laid on the couch with another ice pack, all this running around had caused my migraine to kick into full gear. I was throwing up and crying. It was now almost 4:00 am and my poor wife had to go to work on the morning. But she didn't want to leave me and Willow alone, in the mess that we were in.
I pleaded with her and convinced her that I was fine. Willow had finally settled down too, so I laid on the couch in the living room with an ice pack on my forehead, crying, with one dog at my feet and the other by my side.
The morning light was creeping through the windows before I finally made my way back to the bedroom. Said goodbye to Remi who was leaving for work and fell into bed, thankful that Willow and I were going to get some sleep. Finally.
I woke up today and took a mental check of myself. Migraine? Gone. Back? Hurt. Dogs? Sleeping peacefully next to me. Time? 2:00 pm!! Mood? Fucked.
I had ruined another day!! I have so much to do, but I feel like I can't even think straight. I'm in a haze of blah-ness. Not sleeping well is only amplifying everything a 1000xs. The housework is piling up. The writing is not happening. The gym and working out? Please tell me how to expend energy I don't have. I can barely sit up right now. To say I feel like shit is an understatement.
Someone wrote a comment a few blogs ago, saying that I was stronger then most for always picking myself up again. Thank you, but I'm not. I don't feel strong. I feel frustrated and angry at myself. I feel like I'm always back at square one. I feel like I'm going to lose it. And when I say lose it, I mean it. I actually feel like I'm going to have a breakdown. Except that I refuse to. I refuse to give up. …… Or so I keep telling myself.