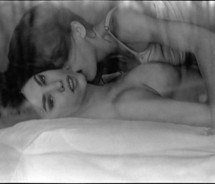 By Guest Writer, DDK
I think that I've mentioned the girl I occasionally see in another post, I think since its an ongoing situation I should explain.  This is a long story so I'll try to shorten it up a bit. A while back my fiancee introduced me to her ex (for blogging purposes we'll call her Sam). Sam had some relationship problems she was going through. She is getting married in October and was cheating on her soon to be wife. Both her and her girl are femmes and her girl eventually knew about it and let it go on. Sam has a history of doing this or so I'm told. Whether it's a commitment phobia or just something going on in her head I don't know. So we started talking and admittedly flirting a bit when she first mentioned sex in the first conversation with the phrase of "or you could do me".
So it started from there. We talked nearly every day for the first month or two and even had some web cam time on her end, I don't usually recommend internet sex but visuals help

. Now before people start jumping down my throat, my girl knows and is ok with all of this. Weird huh? Yep I've kept her informed and even asked permission to do these things. Even though its her ex, she's completely fine with it and even finds it hot. Sam's girl doesn't know. Problem.
To go into detail about Sam. She's a sweetheart  and definitely a femme. I think she may be self conscious though, she is skinny and thinks that her breasts are to small, I think they're wonderful and I tell her she's beautiful all the time even got her flowers once. She deserves to be treated like a princess. Also I think she thinks very low of herself and it shows, she has control problems. That goes with the cheating I suppose. Its obvious she has some issues she needs to work out but she won't go to counseling. She's afraid to cry in front of anyone, I get that, being butch I know it's a thing of not showing weakness. She is a good woman though and does amazing things in the rest of her life, this is just her love life.
So after talking a while we met up in person a couple times and the last time we ended up making out on her couch. I admit I felt off, considering the situation and another reason is Sam herself. She constantly goes back and forth between wanting sex/flirting and nothing at all. She says were just friends and will deny flat out anything she did the day before. After we parted ways the day we made out she wouldn't talk to me for a week and made it clear she wanted nothing to do with me through texts. A week later she was apologizing for everything and went right back into flirting eventually. Which I don't help things I guess, but I do want to see her well.
One thing I told her and will stand by is I absolutely will not sleep with her unless she asks her wife first or at least talks to her about this. If she told her girl about this and talked to her she would stop hurting both her and her girl. The reason I did this is because I'm protective of her and part of me thinks that if I do this for her that she won't sleep around or cheat on her girl if she has me to fall back on. Am I in love with her? No. But I do love her as a friend and keep going through these cycles even though she repeatedly hurts me. I've gotten used to it. One problem I can claim for butches: we are your knights in shining armor who will aid you in everything even if it hurts ourselves sometimes. So be gentle with us if you can.
So that's my story and she's back on the friends thing for now by the way, So what do you guys think she/we/I should do next?