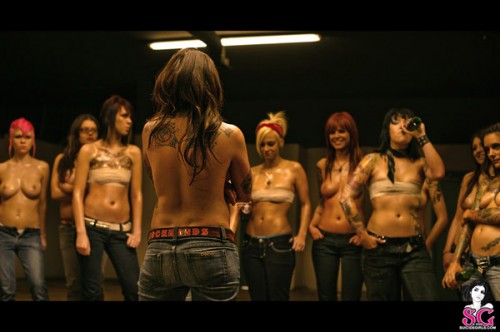 I have a new pet peeve. It's not a big deal, since I'm married. But I imagine if I  were still single this would be a much bigger issue for me.
What is up with all these straight gay girls?
What you may ask?
Ok let me explain …. Maybe even a few real life examples.
The other day we were at Trader Joe's in the gayborhood where It appears that 90% of the staff is family. We love that. So this particular day, our checkout girl strikes up a flirty conversation with me and Remi, but mostly with Remi. Lots of  eye contact, lots of giggles coming from the other side of the cash register.
I look her up and down trying to get a better read on this situation. Is she just a friendly straight girl or a gay girl getting all flustered over my wife's blue eyes she's already complimented?
Commence visible body scan: Short hair? Check. No makeup? None whatsoever. Visible tattoos? Lots. Extra piercings? Nose and eyebrow. It's hard to read anything into her clothes because she's wearing her TJ uniform which is lesbianic already, but not by choice. So that's out.
I turn my attention back to the slightly uncomfortable conversation happening while she packs our groceries and I see Remi trying to bring me into it, to show that we're together. And I'm smiling politely just taking it in, when all of a sudden the gay checker girl talks about her boyfriend.
Her boyfriend!? Damn, my gaydar must need an adjustment. Because this  isn't the first time this has happened recently.
A couple roller derby chicks also confused my poor little gaydar and had my head spinning when I was 1000% sure that these, Portland tough girls were as gay as then day is long. They looked the part, acted the part …. They were as counter culture as any self-respecting lesbian could ever dream of being! When they started talking about their boyfriends and husbands, I still held out hope! I mean they were sooooo gay looking I thought that maybe they were with transmen and that was why they used masculine pronouns to describe their partners. But alas it turned out that  the men they were all googly over they were indeed bio-men. Which is all good in the hood, I love straight people! My parents are straight and I'm fond of them as well. So don't get me wrong this is not a dig on straighties.
It's just more of a *scratching my head and tapping on my gaydar*, "Hellooooooo? You still working?" moment that KEEPS happening!!!!
Seriously what is going on???? Where are all these gay looking straight chicks coming from?? Am I just getting old? Because not too long ago and I mean as little as five years ago, tattooed beauties with full sleeves were  not as common as they are today and when you did run across them, a lot of times they were family.
I suppose it's just a shift in culture. What was once taboo is quickly becoming mundane and what was once a sign of a sub-culture has quickly become part of pop-culture.
I guess it's a good thing when you look at what it says about society as a whole. Becoming more accepting of "the other" and all that. But part of me still wonders when I run into these straight gay girls, if maybe they just don't know yet?
(PS: I am well aware of hotties like Kat Von Dee that are straight and just happen to rock the rocker look. I'm not talking about just tattoos as a sign, I mean the whole package. From the way they talk, move and look at me or Remi. It's downright confusing sometimes!)