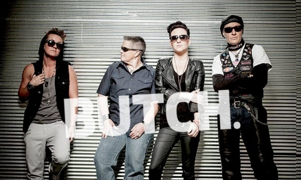 Stud VS. Butch: What's the difference?
I recently asked for some feedback on the differences between the terms "Stud" and "Butch". I'm a femme from Southern California and most of the more masculine leaning lesbians out here use one of these terms to self-identify, in my personal experience. I've even dated a few butches, stone butches and one stud. So you would think that I know the difference, but I still don't really get it. I was told by a self-identified stud that to her, the term was more closely aligned with the term "stone butch" in referring to how she was not open to being touched in a feminizing way by her partner. But if that's the case, then is race really the only difference between these terms and why do you think that is?
I actually tricked one of my best friends into writing the majority of this blog for me. We were discussing the topic and she emailed me her experiences. She was kind enough to let me repost her email because she touches on the points I wanted to bring up. Looking forward to any readers input. For the record, this blog post is mainly directed at the people that DON'T identify in these terms, but instead it's to help us to not offend those that do. Because it's been my personal experience as well, that if you call one by the wrong term, they don't usually like that and I always feel like an idiot when I accidentally put my foot in my mouth, which actually happens more then you might think. This is also for all the femmes and girls of all labels that are attracted to butches and studs. Maybe this will help you look like you know what you're talking about next time you have the nerve to talk to some hot butch/stud you see in the supermarket. 😉
So on this Stud vs. Butch conversation, I am just going to give you my history (from a rural experience) with these labels and how I view them from my femme perspective.

When I first was going through the process of coming out and looking at gay history in the early 1990s, the words "femme" and "butch" were standard fair in the vocabulary.  In looking at the pictures of the past and meeting various women, I found most were comfortable falling into one of these two categories and it was almost expected.  Any couple who did not fit into these roles were looked upon with discomfort in the lesbian community, and in some cases being isolated out.  When two femmes were together it was "cute" and "fun", but not taken seriously.  When two butches got together, it was a lot of uncomfortable silence.  Growing up in a small rural town, "butch" was also used to describe straight women who did not fit into the mold.  "Butch" described women who wore collared shirts, jeans and had DAs or short cropped hair.  They might also be women who had a "manly" walk or mannerisms, or who took on a dominant role in their relationships, straight or gay.  In my own relationships, many a girl tried to make me a "butch" my taking my more tomboy approach to style and as they said, "butching it up" asking me to cut my hair short and add a flip in the front, take my normal tee-shirt and jeans and make it more baggy and from the mens department.  It also described an attitude.  One of taking charge of any situation, opening doors and expressing other gentlemanly  manners and taking care of any male-associated household chores.

In the mid 1990s I moved to a more metropolitan area and heard for the first time the descriptor, "stud".  Interestingly, I found this word to be almost exclusively used to describe the "butch" women of color, primarily with the black, Latina and Puerto Rican communities.  It went beyond the "butch" label and added elements of street-style and hip hop.  There was more of an edge.  At that time, (and to be honest, I still have not heard) Caucasian women being described this way .  It was used to describe women who were "players" and came across as women who could take care of themselves and their woman-even in a fight with a man.  I knew butches who were certainly players and could take care of themselves and their woman in a fight with a man but the style and attitude were different. I found that the studs I spoke with however seemed to identify more as stone butch in their relationships. There also was no language being used to describe stud variations.  Either you are or you aren't a "stud".  I have never heard: "soft", "metrosexual" or "sporty" being used as descriptors to describe a stud like with the work butch.

Just source studs and butches on a Google search and you can see the images tend to be racially divided.

As I got older and discovered myself, I knew I was a femme and I knew I wanted to date a "Stud".  The butch women I met  were great, but not "hard" enough for me.  I wanted someone with more of an edge and the "stud" women I met seemed to fit that role that I was looking for.  I have many friend whom identify and butch and all its variations, but in my opinion there is another level of attitude that goes with being a stud.

I know there are plenty of people who hate labels, but for me I enjoyed discovering these labels because it helped me to define myself as femme and what I wanted in a partner.

And that's my experience.
So what's your experience? The reader? Do you identify as a stud or butch and if so, why? What do you see as the main differences? If you're attracted to them, again, why one more then the other? And here's a question, is one easier to date then the other? I have an answer that will get me into trouble, but you first. 😉