By Guest Writer, Effi Mai
If you're a lesbian, why do you fancy people who look like men?
This is a question I have had countless of times. And it's probably more insulting than any of the other questions you might get. And with all the 'Have you not had a proper man?' and 'Can I watch?' questions out there, that's quite an achievement.
So first let's go to the straight world. Not every man looks the same there. You get the rough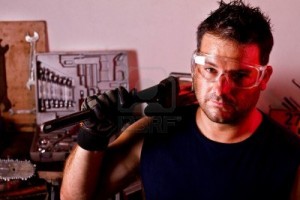 I've-been-working-in-a-garage-and-then-I'm-going-to-home-and-eat-chips-and-watch-football kind of men. The ones who have more hair on their body than an arangitang in winter and like to start sentences with the word 'Dude' in America or 'Mate' over here.
Then there are the ones who are a bit more preened and plucked like one of those gardens that have a white picket fence around them. And they do the whole spray tan, manicure and dyed-until-the-ends-split hair. And girls like both types. And by like, I mean sleep with. So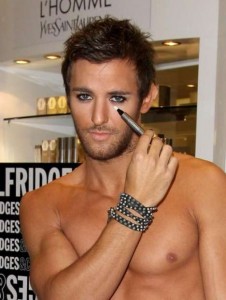 why is it different for the card carriers of the world?
Now I am a femme so can't give an opinion from a butch point of view, but I can say why I am attracted to butcher women than myself. It's not because 'they look like men'. It's the way they carry themselves. Often with a I'm-hot-and-I-know-it-swagger. And they can give you a look that says 'I know you're not even wondering whether I'm good in bed, it's obvious I am isn't it,' And they'll get you into bed no messing and without the usual lesbian drama hassle. The type of hassle that's involved in getting a roller out of your hair or trying to get into a coconut.
And their bodies. I like the thought of taking off a baggy top and finding the tight clothing underneath. And running my hands through short hair makes me swoon and fall about like I'm in some old romance novel. And don't even get me started on underwear. There is nothing more sexy to me than girls in boxers or men's underwear. If I think about it anymore I might have to go have a little lie down.
And I do think feminine girls are pretty and I admire what they wear, their hair, their makeup and their ability to walk in the highest heels. But I don't want someone fighting with me over the last pink lipstick or casually borrowing my shoes. So in between the femmes and the butches I would want a butcher woman to be going down south the meet the parents, going down to the cellar to sort out the lights in a power cut and going down on me in bed.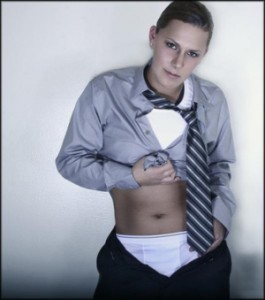 I don't know really what to say to the countless people who ask me this. It takes enough energy to just stay calm and not scream and hurl custard over their head. I am attracted to more butcher women, yet I'm not ever going to think 'Ah well this girl is so butch I might as well go with a man now'. It's a ridiculous statement. As ridiculous as my hatred for Velcro, and as ridiculous as the question people ask in the first place.
If someone asks me again, I'm going to just snap back 'There's still a vagina there at the end of the day,'