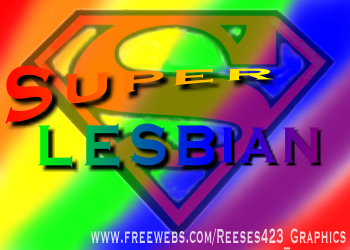 We all know one, a Super Lesbian. A girl who's got it all together and keeps everyone else's crap together too. There's one in every group, the mother, the savior, the hero, the master chef and master builder all rolled into one. Our group has one too. I'll call her Jeanine.
Jeanine is a Super Lesbian. She has a real estate license, a notary license, an appraisal license, she runs an entire company and she takes care of her girlfriend, her family and all her friends as if she has boundless energy and 48 hours in every 12. In her spare time she's an amazing artist and just recently realized she can design and build a masterpiece of a bookshelf/entertainment center in an afternoon. I don't know how she does it, it took my dad 4 months to replace a single shelf in my kitchen cabinet. Yet Jeanine's an Extreme Home Makeover in a one one woman show.
The funniest thing is that she's every one's best friend. Seriously. There's about sixteen people who swear her constant friendship and reliability keep them sane and alive. When my mom was in the hospital she was the one offering to bring me food and sit with my mom so I could take a break at one o'clock in the morning. I often find myself thinking about Jeanine and her amazing super powers of being everywhere at once and being everything to everyone. I'm in constant awe of her.
The Super Lesbian is a rare breed. A strong woman capable of juggling as many balls as the world throws at her and never dropping a single one. I know what I want to be when I grow up!