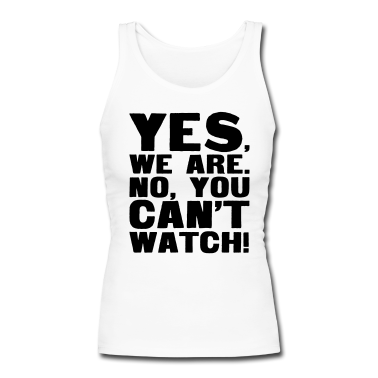 By Guest Writer, Effi Mai
Another night in Straight Scene. Yey… Not. I need to make sure I say no to these things, I need to cling onto the walls of my flat and not let my friends drag me out. Or I should just move house. Maybe America, where people think my accent is cute not annoying. And this was another particular bad night out when I got that question.
It's the question that makes you want to bitch slap the man in front of you and hurl custard or something equally as horrible over his friends. The question that makes you point to your girlfriend in utter frustration. The question that as a lipstick lesbian I have been asked so-many-freaking-times. The question of 'Can I join in?'
Now I understand that sometimes straight girls go out and kiss each other to get the attention. But I think some men actually think that the definition of lesbian is 'Sexually unsatisfied and need man for threesome.' In front of these types of men everything you do seems to be bigger. A girlfriend could dance naked dressed as a bumble bee when you're alone and you wouldn't bat an eyelid. But if she was to grab your hand and kiss you out in public where the 'real 3 dimensional judging people' are, I think it changes everything.
Last week for example I was out with a lovely lady and we were both wearing similar type dresses when this 'lad' did an I'm-so-cool type swagger over to us, grabbed my girl's arse and said 'How about I put a real one inside you.' It's very difficult to know which part of that sentence to get more annoyed at. This confused me so much I felt like having a tantrum right there in the middle of the club and then downing ten tequilas.
It's not like I want to cover myself in UV rainbow paint and mount a girl, but it would be nice to just hold hands with a woman without feeling all those eyes boring into you. It's-change-the-duvet-cover exhausting sometimes trying to find somewhere to be able to do this. We couldn't get this annoying egged-on-by-his-friends-twat-weasels to leave. First it was the I'm-just-a-lovely-man-looking-for-some-fun speech and then as he got more drinks for himself it turned into a you-can't-be-a-dyke-you've-got-long-hair drone.
It's just astonishing now that wearing the dresses, applying the blusher and putting on the heels doesn't get you banned from the lesbian club. And some men do need to realize that some women are actually couples, as in kiss-and-hold-hands-and-stuff couples, and they probably manage quite well on their own in the bedroom department.
So my plan next time that question is asked is to just smile and walk off, carry on kissing or tell the man to pick one of his male friends and have a who-will-go-the-furthest contest. When one is considering licking his best friend's chest, I'm sure they'll soon get the message.