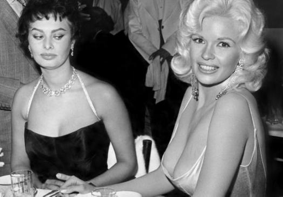 By Guest Writer, WWG
She wasn't my type in the least. It was a business meeting, informal, but still for the purpose of business. My eyes, therefore, were meant to stay at hers. But her top? Well, it kept slipping down to reveal sumptuous cleavage. And, well, I lost the fight.
Night. Mare.
So, this is the blog of truth. And the truth I am admitting today? I, WWG, sometimes objectify women. Oh, I don't try to, but it happens. Can we all just admit that women are fucking gorgeous and so goddamn distracting sometimes? I'm not always like that, I swear (but not under oath)! I mean, she wasn't even my type by a long shot, and she definitely wasn't gay, but folks? It was a realllly nice sight. And so, the lesbian side of me won out.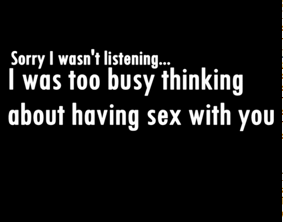 Now, I don't want people to read this and think "all lesbians are pervs", because we're not. But in that moment (or should I say 30 fucking painful minutes as I desperately kept trying to drag my eyes away from her chest and get back to business) that I felt somewhat sorry for straight men. I realized the dilemma I face – the internal dilemma of:
Lesbian vs. woman
As a woman who has been the subject of pervy looks at times (including you, guy last week who looked straight down my top – yes I caught you), I want to be angry at myself and say "how dare you subject another woman to that?!! You know how it feels." As a woman who has found unwanted hands on my body at times, the caring, loving, side of my womanliness wants to protect, care for, and cherish all women and provide them a harbor against that kind of thing.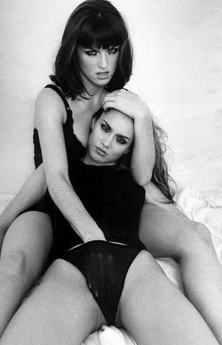 However, the other part of my experience, of my life, is my sexuality. And my sexuality is a woman who loves, lusts for, drools over and yes, occasionally ogles women. As a femme woman who is rarely taken for gay, I am aware I can get away with more than my obviously gay sisters can. "What, me? Staring at your tits? Noooo, I just, um, like your shirt?" That only works sometimes though because anyone who ogles for more than a quick second gets caught, no matter what you look like. And that can be quite embarrassing, let me tell you!
To clarify, It's not that I entirely mind someone checking me out (nope, not even guys). I don't. It's when they openly ogle my goodies after I've made an effort to cover myself. The unspoken communication there is "I'm not comfortable with your ogling me." To continue to do so (yes, you on the subway who attempted to look up my skirt after I caught your eyes and gave you an angry look) is just disrespectful.
I have never had a woman give me that look, but that is not who I want to be. I love women, I respect them, and as a woman myself, I know how awful it can feel when someone is clearly undressing you with their eyes and making you feel unsafe.
How do you all handle this dilemma of woman vs. lesbian? What do you do when your eyes are acting like a frat boy at his first strip bar?