I've been in the mood to write some fiction …. thought I'd start sharing some of my short stories.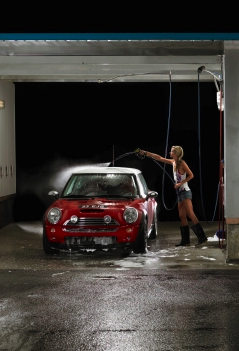 The car was filthy. I hated washing the car myself. Since the break up I had avoided going out in public too much. But it was Friday night and my girlfriends had finally had enough of me moping around and demanded that I meet them at the local dyke bar that night.
I decided that if I was going to go out, I was at least going to be presentable and that included my car. Plus, I was usually the designated driver and knew that everyone was going to be in it by the end of the night and I didn't need my friends teasing me about the dirty tissues from my crying jags and the empty bags of chips and candy bars that always followed my pity parties.
It had become my pathetic habit to drive to the beach after work and "think." I couldn't bring myself to go home right away because everything in the apartment still reminded me of her. So I would stop at the store, grab some junk food, magazines and head to the beach. It was always my intention to make myself feel better but as I finished my first bag of chips the thoughts would start rolling in, "This is probably why she left you. You're such a fat pig. Look at yourself, eating crap by yourself in your car. How pathetic are you!"
My mental self-berating would then lead to me blaming myself for everything that had ever gone wrong in our relationship. To the point that I caught her cheating on me. Her words replayed a thousand times in my head, right after I walked in on them. She turned to me, as coldly as I could have ever imagined my greatest enemy speaking to me and said, "What did you expect? Look at yourself! You're lucky I stayed this long."
The memory of that day only made me shove the food into my mouth faster as I sat there and cried in my car. This had become my daily routine. Now looking at my car, a few hours before my friends would pile into it and I realized, I had to wash it!!
So I drove to the local dollar car wash. You know, the one's you put quarters in and squirt down your car yourself. I was scrounging for change in my car when someone came up to my car window and tapped on it. Before I even looked up, I was shaking my head NO to whoever was asking for change. Another reason, I hated coming here. Homeless people always hung out here begging for money and I was convinced that I'd get mugged for two dollars, stabbed and left in my car for dead. As a line of other dirty cars honked at my corpse to hurry up and get out of their way. Yea, I'm morbid like that.
But when I actually looked up, I was shocked to see a hot butch standing outside my car, sort of smiling with a puzzled look on her face. Probably wondering why this crazy bitch was already shaking her head no?
I quickly rolled my window down and she smiled, "Hi, sorry to scare you. I just noticed it looked like you didn't have change? I have a ton of quarters, if you need change?" she said as she showed me several rolls of quarters.
I looked up at her with a surprised smile and said, "Oh yea, actually that would be great. I started for the latch of the door, when she opened it from the outside and extended her hand for me to take.
I blushed and shyly put my hand in hers. Immediately, painfully aware that I looked like crap!! I had thrown on some old cut off jean shorts, flip flops and an old tank top. I didn't even put my makeup on, except for light pink lip gloss. How was I supposed to know I'd run into the hottest woman I'd seen in  …. um … ever??? And how did she know I needed change? How long had she been watching me? My head spun and all of a sudden I was grateful for her hand to help steady me as I got out of my car. I felt a little light headed even.
As I stood up, I felt dizzy. Nothing unusual for me, I was always getting dizzy …. from the heat, from not eating for hours at a time …. for being embarrassed by some hot butch helping me out of the car. I literally saw stars for a second and fell back against my car, but she caught me by the waist and said, "Whoa, are you OK?"
I instinctually  put my hands up on her shoulders as she stepped into me, looking into my eyes she seemed genuinely concerned. Probably because she didn't want some random stranger fainting in her arms. But I couldn't help it, I felt flushed and stupid. Oh my god, woman get a hold of yourself, was all that I could think.
A cool breeze whipped by us and I immediately felt better. I pushed her away gently, and apologized, "I'm so sorry. I just get dizzy when I get too hot." I was so embarrassed I couldn't bring myself to make eye contact with her.
She let me go and said, "No no, it's OK. Really, not like it's every day I get to catch a beautiful woman when she's feeling faint. Must be my lucky day."
I snuck a sideways glance up at her and caught her giving me this cute smirk. I felt butterflies in my stomach. What the hell? Was this really happening? I never meet women! They never flirt with me, they never even notice me! Was this some kind of joke? Maybe she was friend's with my ex and my ex had put her up to this. I looked around all of a sudden, peering into the nearby cars expecting to see my evil ex, laughing her ass off at making a fool of me.
When the stranger put her hand on my arm again and said, "Are you sure you're OK?"
To be continued …..