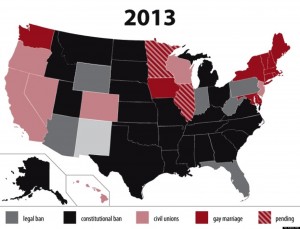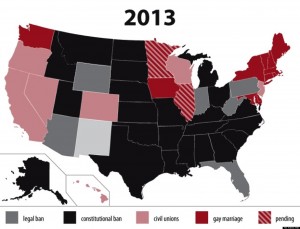 Hey ladies, everyone's favorite Top Butch is back!!!!! It's Raye and she wrote this just for us. 🙂 
By now, everyone is aware of the recent SCOTUS ruling against DOMA. This new development sparked a flurry of new marriage equality lawsuits against states who refuse to recognize a federally accepted same sex marriage. Protests are ringing out all over the country and people are choosing sides.
Many straight people I have spoken with, are under the assumption that our battle is over. Others think we should be happy with the proverbial crumbs we have been given from the floor under the table of society. They don't realize that the SCOTUS did not completely demolish DOMA and that states are still free to discriminate and oppress legally married LGBT people. Meanwhile the majority of states (a whopping 70% of them) still have laws and sometimes even constitutional bans against marriage equality. The conservatives still cry out saying that marriage equality will lead to polygamy, incest, and bestiality. They treat us as nothing more than sex-crazed subhumans and blame us for the degradation of society and the desecration of the institute of marriage.
All of this has been extremely personal for my wife and I. We were recently married legally in Connecticut but we reside in Texas. The people in the Connecticut courthouse saw our Texas ID's and smiled with a seemingly pained expression of compassion, congratulating us on our marriage. I have to wonder if they get many out of state LGBT folks coming to them for legal validation, and if they do… do they feel like part of something bigger? A civil rights movement as in the days of protesting Jim Crow laws?
My wife and I felt a fundamental difference in our treatment while we were in Connecticut. No one gave us side-glances. No one grudgingly served our dinner in restaurants while giving us eye daggers or avoiding eye contact all together. We walked into every business we patronized and were met with cordial, inviting people. Our hotel concierge was a transgendered woman who had fled north from Alabama.
None of this was new to me as I had lived in Connecticut for almost four years before moving back to Texas. I went there as a straight married woman, but went through my coming out process there and returned to Texas an out butch lesbian. I immediately saw stark contrasts in my treatment as a butch in Texas, but after a few years I guess I had learned to ignore the sting of it. It had been seven years since I had been back to New England. And with the reminder of what my life could be like, I began to realize that "southern hospitality" was something reserved for heterosexual white people. The rest of us are not seen as worthy of respect, sometimes not even seen as human beings. We're just "faggots, queers, and homos," and let's not forget… "abominations". Herein lies the problem.
So when we returned home to Texas, we were met with a whole new list of questions for what this means for us as a married couple. We began trying to find a lawsuit to lend our names to, in order to try to help change things for LGBT people in the South. Texas is a state with a constitutional amendment banning not only gay marriage, but domestic partnerships, civil unions, and the recognition of anything remotely resembling marriage equality. We flew back from New England to our home where we pay taxes and stashed our marriage certificate in a safe.
Prior to our "legal" marriage, we had a wedding in Galveston with about 25 supportive friends and three of my family members. My parents did not attend. Her parents did not attend. We wear our wedding rings everywhere we go and my wife had her name legally changed to match mine. But still, in Texas we struggle to explain to our friends and medical professionals at doctor's appointments, and our bank tellers who handle our affairs, what this means. "You're married?" they ask.
"How does that work?"
"Is that legal?"
"I thought Texas doesn't allow gay marriage."
This list goes on and on making our lives a constant political conversation and often alienating people who posed as our friends until a discussion shows their true feelings on the subject. Most times they are ok with us being a couple… just as long as we don't get to share the word "marriage", because clearly they do not feel our relationship is worthy of the word. Meanwhile their heterosexual divorce rates keep climbing. These are the passive aggressive conservatives.
All of this was beginning to frustrate me greatly. I began to think about how to protest this situation in a way that would get conservatives to recognize the folly of their "slippery slope" argument. And then it dawned on me… polygamy is legal now thanks to the conservative bigoted states who have enacted gay marriage ban amendments defining "marriage" as between one man and one woman. Then I got an even grander idea… tell all the polygamists who want federal tax credits for their dependent spouses to join in this protest. Here is how you do it:
First go to one of the states where gay marriage is legal and have one wife marry the other wife. Then go to a state where there is a constitutional amendment defining "marriage" as between one man and one woman and have one of the wives marry the husband. You might think they could not get away with this because marriage applications require that you state truthfully that you are not already married in another state. But here is where they screwed themselves: if they define marriage as between one man and one woman, then you can legally say to them that you are not "married" by their definition so you are free to marry your opposite sex husband. If you want two husbands and a wife, you could do this as well. The key is to get married first to your same sex partner and then to your opposite sex partner in the bigot state. They now have state sanctioned polygamy (their worst nightmare… well except for the bestiality, which hillbillies already do anyway) and there is nothing they can do about it.
After that, proceed to file joint federal tax returns with your spouses as your dependents and state taxes with your opposite spouse as your dependent. Because the government now has to acknowledge that you are married in two different states to two different people, or try to nullify one of your marriages by "overruling the laws of the states" which is a big no-no to conservatives trying to ban marriage equality in their state. Follow this simple protest and you have now given the conservative idiots refusing to recognize gay marriages from other states a taste of their own irony. They allow legalized polygamy due to their refusal to recognize the sanctity of OUR marriages. How about them apples?
My wife won't let me do it. But I'm counting on you guys to get it done. Show the conservatives that they are the ones promoting polygamy and indeed have already legalized it. And polygamists… enjoy.