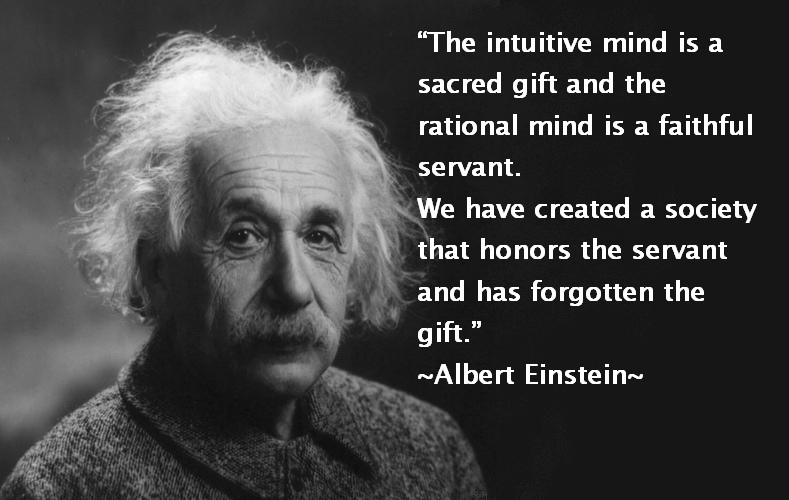 By Guest Writer, WWG
About a month ago, a friend tried to call me. I was at work, so I had to send her immediately to voicemail. I texted her to find out what was up, as she wasn't one to normally call me. Her response?
"My boyfriend is married and lied to me for a year." She went on further to say: "You were so right about him. I don't know how you knew but you were right."
I know how I was right about him.
Intuition.
I met her with her boyfriend just a few weeks after she did. I immediately didn't like him. I told her he seemed "slick". She asked me why I thought that, and there was no specific and logical reason I could point to that would satisfy her, but I just knew I didn't like him. She told me perhaps I was wrong, that I just had met him quickly and hadn't gotten to know him well like she had, that he was indeed a good guy. For a year we talked about her relationship as she kept telling me there was love there yet continuously told me about how he rubbed her the wrong way at times.
As he lived out of state, I didn't have a chance to reconfirm my thoughts of him as she told me all of this self-justifying information, but I didn't really need to because intuition had already told me all I needed to know. Did I know specifically that he was married? No. I just knew that when I met him, he wasn't open to or respectful of me, her friend, and that was the small but strong message I needed to know he wasn't honest.
I have always known how intuitive I am. My intuitive reactions come from many sources, sometimes in the moment, and sometimes in predictive and/or warning dreams. There have been many times I've met someone and not understood why I reacted the way I did, trying to force myself to be friendlier and more open with them. And then later, something will happen and bam! I understood why I reacted the way I did. My intuition has done an amazing job at keeping me away from harm. In fact, I've helped foil some minor crimes because of it. But yes, like all of us, there've been other times I tried to reason my way out of my own intuitive responses, only to pay the hefty and painful price later.
But this isn't about me or my straight friend. This is about you. This is about women, this is about lesbians. As women, we are vulnerable always. I'm as much a feminist as anyone, but it is a truth. Regardless of how you identify and look, or how gay-friendly the place where you live, we are simply even more vulnerable. We, as lesbians, are a natural rejection of a man's sexuality. While most men are mature and self-aware enough to understand that it isn't about them, the fact of the matter is there are those who aren't.
On page 65 there is an enlightening quote: "At core, men are afraid women will laugh at them, while at core, women are afraid men will kill them."
The quote is from a book I try to read every few years, and the book that I want to recommend to you all now. It was suggested to those of us who were attending a women's self defense event put on by my then-Jujitsu sensei. It is called "The Gift of Fear: Survival Signals That Protect Us From Violence" by Gavin de Becker.
Gavin de Becker grew up in a violent home. He learned the signs of violence, as many do, as a child. Many who have similar experiences to him follow the path set out for them and become criminals themselves. For him, this experience would lead him to his path as the founder of one of the most famous and recognized security agencies in the world that work with and protect the FBI, CIA, Interpol, celebrities, dignitaries and more.
The book opens with the story of a woman, Kelly's, rape. Tired of being blamed for letting him into her apartment and blaming herself, she wants to learn how not to be a victim again. The book breaks down step by step all of her interactions with her rapist, even the most minor and seemingly inconsequential ones. It points out the tools her rapist used to manipulate her and overcome her intuition, the moments when she justified her warning signals to herself as wrong, as well as the small survival signal that saved her life.
Yes, Kelly survived a rapist who had killed previous victims because of her intuition.
A blurb written on the back of the book, quoted from famed prosecutor Marcia Clark, explains it succinctly: "In my fourteen years as a prosecutor, crime victims or their loved ones have always asked me "what could I have done to prevent this?" The Gift of Fear is the first book that answers that question. It teaches you how to tap into and act on the subtle warning signals that herald danger. Gavin de Becker's brilliant insights and encyclopedic familiarity with the minds of criminals have made powerful contributions to the successful prosecution of many cases, including mine, and now he shares that knowledge with his readers."
If you read this book, you will understand that you don't necessarily need the high priced security firm, tons of bodyguards nor high caliber weapons to keep safe on a daily basis. What you need is to access and understand your intuition, something that many of us are guilty of ignoring all too often. In it, he teaches the reader the strategies to help readers avoid trauma and violence by teaching them various warning signs and precursors to violence.
There is no blame. There is simply a matter of fact and real explanations of situations and experiences with intuition and violence. For instance, did you know that humor is a form of intuition? "Humor, particularly dark humor, is a common way to communicate true concern without the risk of feeling silly afterward, and without overtly showing fear." (page 71).
Just as my sensei once recommended it to me and all of the women in my class, I would like to recommend it to you, readers of CCL. And then, I hope you'll recommend it to all of your friends – regardless of gender or orientation. It is a book that I feel strongly that everyone needs to read.