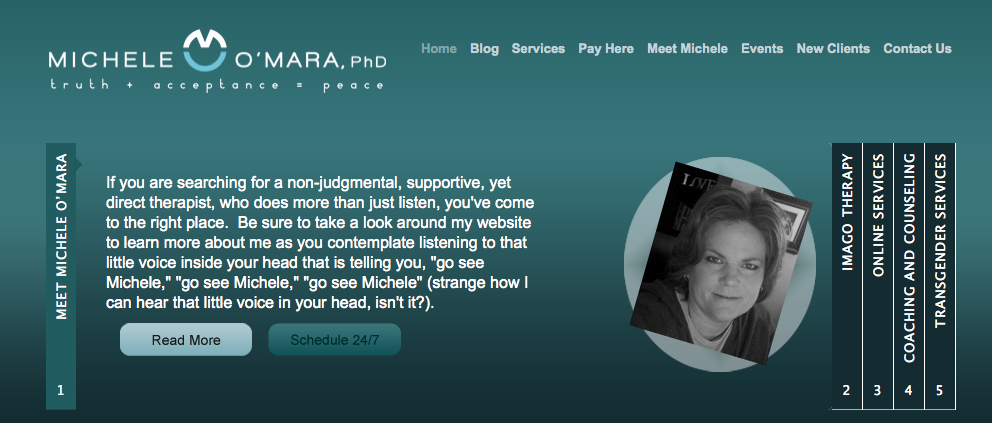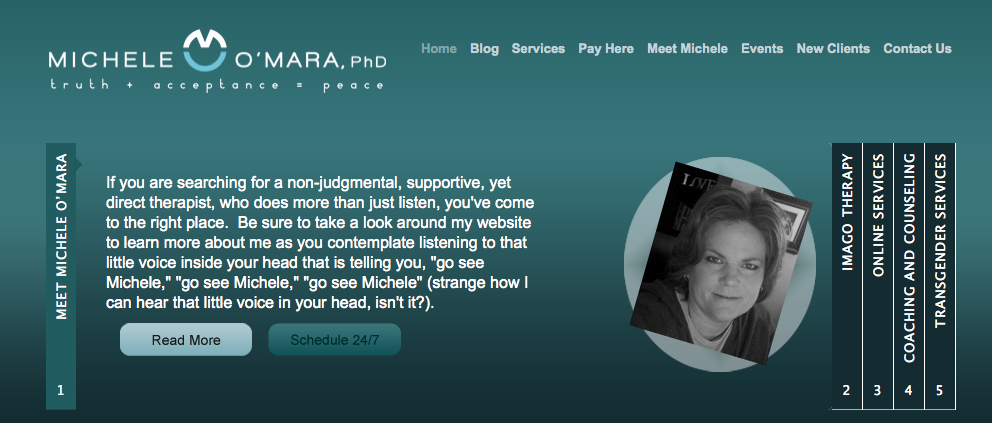 I love the way the universe works to connect people sometimes. One day I saw that I had an order for one of my steel pieces from my little CCL store. But I hadn't set up the checkout correctly and it was just sitting there in limbo. I contacted the client and realized that her name looked familiar …. so I double checked and yes, it really was who I thought it was! Michele O' Mara aka The Lesbian Therapist was actually buying one of my necklaces!!! Talk about a small world.
I had to introduce her to you because I think it's really wonderful that there are therapists like her out there, where people in the LGBT community can go to for help and feel 100% at home and comfortable.
Make sure you check out her website after you read her fabulous interview she did for CCL.
As "The Lesbian Therapist" how important do you think it is for a member of the LGBT community to find a therapist that is also part of the community? Or do you think that straight therapists can understand us well enough to be truly helpful?
What makes a therapist useful to LGBT folks is their ability to help clients normalize their feelings of same-sex attraction, get connected to others with whom they can identify, and to encourage a positive, hopeful vision of their future. More than anything, I think it is absolutely critical that you like your therapist – that you think they are in your corner, that they "get" you, and that you can be yourself.
Therapy is personal.  While it's a bonus if you like your medical doctor, you are likely to get the same results whether you like him or her or not.  Therapy is different.  If you are funny and the therapist doesn't laugh, find one that will because humor is as important to who you are as your hurts.  If your therapist falls asleep when you are talking, can't remember key people in your life or things you discussed in previous sessions, you might want to shop around a bit more.  If you feel like you sit down, update your therapist about what's going on in your life, then leave without any real insights, progress, or homework to do, then you might be able to get more out of a session elsewhere – regardless of your sexual orientation. If your therapist seems fascinated by your gay life, asks a lot of questions to satisfy his or her curiosity but have nothing to do with your issues, you may be paying to educate him or her, and this is not ideal.
What made you decide to focus in on the LGBT community?
I started working with the GLBT population in 1994 as the counselor of a gay youth group.  I fell in love with this work during that job, and eventually went into private practice in 1997.  Ultimately I knew that I wanted to work with lesbians and in particular I was (and still am) very passionate about working with lesbian couples.  That's why I pursued certification in Imago therapy, which is a specialized certification that prepared me to work with all couples using an amazing model of relationships that helps us understand why we attract the partners we do, and how to keep our relationships on track.  I offer lesbian couple's workshops too, which are super fun for me because I meet amazing women from all over.
As a blogger, I get emails every week about women struggling to come out later in life. Do you have any advice for women that realize later, sometimes even after being married to a man, that they are now lesbians? Do you think they were always lesbians or do you prescribe to the sexual fluidity concept?
I definitely believe that sexual orientation is more fluid than not, even more so for women than for men (based on the research conducted by Lisa Diamond).  My advice to women coming out later in life is to have patience, courage, and a lot of self-compassion.  If you decide to pursue your lesbian identity through a relationship with a woman, my advice is to finish the relationship you started (with your husband) first, and do the work to exit your relationship as responsibly and gracefully as possible – BEFORE you start a relationship with a woman.  If you have children, be sure to include them in your coming out process. Not doing so is often a sign of internalized homophobia, especially when you adopt the belief that telling them may somehow harm them.  If being gay is harmful, that makes who we are dangerous.  I don't believe that being gay or lesbian means being dangerous.
We have all heard of the dreaded "Lesbian bed death" and as a married lesbian, I can say that what I thought would never happen to me, has sort of creeped up on us! Do you have any thoughts or advice for long term lesbian couples that find their sex life dwindling?
This is a great topic!  One close to my heart, in that I did my dissertation on the correlation of sexual frequency and relationship satisfaction among lesbians.  If you want to read a Summary Report of my dissertation, here's a downloadable copy of it (http://micheleomaracom.hypermart.net/SummaryReport.pdf).
My top three suggestions to avoid or repair diminished sexual frequency in lesbian relationships are:
1.  Exercise more independence in your relationship.  Spend time with friends separately, engage in hobbies and interests without one another, and maintain your individual identities.  Sexual tension tends to grow out of the space that exists between two people.  When lesbians partner, they often grow so close, so quickly, that there is not enough distance to generate desire.  This, and women typically have lower sex drives, struggle with initiation, and sometimes even carry homophobia that interferes with a healthy sexual connection.
2.  Introduce novelty.  Surprise her with something new, whether it is a home made meal (from the partner who never cooks), or a new toy or activity you introduce to her in the bedroom, or it could even be tickets to her favorite concert.  Novelty is what makes infidelity so exciting and alluring.  Introduce something unexpected, something new, something fun, something special to your relationship.  Mix things up in the bedroom.  Are you routinely going through the same motions in bed?  Is it predictable and maybe even boring?  If you are a couple that makes having sex a marathon event, try a quickie.  If you are a couple that relies on quickie's try a marathon event in the bedroom.  Mix it up!
3.  Talk.  Talk about sex.  Talk about hurts and resentments that might get in the way of wanting to have sex.  Take interest in one another.  Here's a shameless plug for my recent book, "Just Ask!  1,000 Questions to Grow Your Relationship," which I wrote for just this purpose!
My book offers 21 categories of topics, five sections are most salient to sex and sexuality.  These categories are:  Romance (23 questions), Sexual Orientation (25 questions), Gender (16 questions), and Sex (51 questions that are focused on feelings, fantasies, turn-on's, what's important, etc.).  Lastly, there is also a section called "Have you done, or are you willing to try, the following?" (77 questions in this section, all about actual sexual activities).  This will certainly give you plenty to talk about, and offers you an easy way to introduce tough topics about sex.  You can read more about this book at:  justask1000questions.com