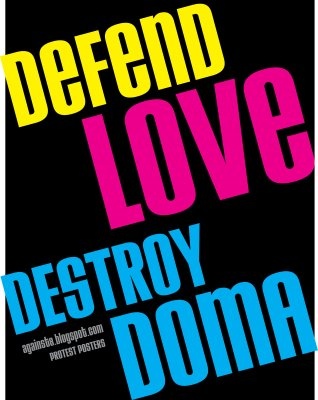 On the heels of the 3rd anniversary of Prop 8 passing, Remi came home today with some disheartening news from her work. We already knew that since she works for a federal agency, there was a good chance that they wouldn't offer any domestic partner benefits. But over the last few years, we had heard and read some rumors that her particular agency was making some serious strides in the way of LGBT friendly ways.
One thing in particular we liked was when we heard that they would be extending The Family Leave Act (FMLA) to domestic partners. FMLA allows the federal agent to take time off of work to care for a sick family member. Without that counting against them in any way. This is huge as you can imagine. It would even extend to in-laws, who might require some extra care when going through an illness. But also, it would be able to be invoked in critical times when, oh I don't know, maybe a bipolar spouse is going through a dangerous episode and requires constant care or hospitalization for a short time.
Remi has never tried to invoke FMLA out of fear, that in spite of the promise that it won't harm her career, it might anyways. And remembering my short time in the corporate world, I can see how it could if the wrong people were aware of the situation behind it.
However, today Remi came home with some bad news. They are NOT extending FMLA to domestic partners. But to make up for it, they are allowing you to take your own sick leave to take care of a sick partner. Oh how nice of them. When a heterosexual person invokes FMLA it does not count against their sick days. But if a gay person has a family emergency, they're being kind enough to allow them to use their own sick days. But even that is really at the discretion of your superior, so you better hope you have an ally in then workforce.
To add insult to injury, it was also made known that should a straight man in federal employ, knock up some random chick and never get married to said chick, he can still invoke FMLA for that situation as well as take 12 weeks of maternity leave to do what ever the fuck he wants to do, as long as he says it has to do with his baby's momma. Who, let's remember he never made an honest woman out of. But a lesbian or gay couple that are legally domestic partners, have planned for a child, do not get any of these "benefits."
After throwing up in my mouth a little about the hypocrisy of DOMA, since all of this has trickled down from them. I then started wondering if we were going to be able to get health coverage? Because we were under the impression that when the season opened in a few weeks, we would be eligible. But if they're not acknowledging domestic partners for FMLA, does that mean that health insurance is also off the table?
I don't know yet. Time will tell and I will let you know what happens. But in a quick Google search on the topic I found this disturbing piece to the puzzle.
We've previously discussed a non-salary benefit that we've nicknamed the gay gross-up. Here's one concise definition: "A 'gross-up' for employees who enroll same-sex partners in the Firm's health benefits plans to offset any federal, state and local income taxes paid on the value of the partners' benefits which heterosexual spouses are not subject to." (Currently gay couples in which partners receive employer-provided health benefits are taxed on the value of those benefits, due to the fact that, thanks to the Defense of Marriage Act (DOMA), federal law — including federal tax law — doesn't recognize same-sex unions.) — Above The Law