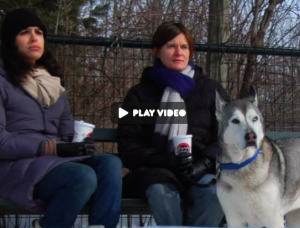 It's that time again! When I introduce to you some freaking amazing lesbian artists and you run out and support them in whatever creative way you can think of. Are you ready? OK GO!!!
I get emails all the time from lesbian artists wanting me to write about them. But sadly, I'm a snob and unless I actually like their work, I won't post it. Yes, I'm a bitch. Moving on.
Today I got an email from one of the creators of The Slope. A gay web series that is a small, entirely self-funded endeavor run by Desiree and Ingrid.  They write/act/direct & edit each short.
The show originated as a school project for NYU's Graduate Film School under the supervision of queer filmmaker Ira Sachs, and has grown into an 8 episode series.

We have made one season, and are currently fundraising via Kickstarter to continue with a second one.
Storylines in the show range from arguments over who gets to have ownership over the re-appropriation of the term "dyke" to whether or not one may determine the "top" of a relationship  based on masculinity.
I decided to watch an episode while drinking my coffee and almost spit it out all over my keyoard!!! Because, sadly, I have had some of these same conversations with Remi but it was much funnier watching them do it.
I have a feeling that anyone that starts watching this series will be hooked and if you can, help them out a bit with the Kickstarter. Because honestly, I could totally go for some funny lesbians on TV besides Ellen.
I watched the episode below and a few others. But decided I had to wait till Remi got home so we could watch them together. Enjoy.
Episode 2: "Pretty People" from The Slope on Vimeo.