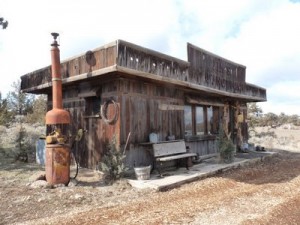 The funk I had slipped into was lingering. It wasn't one of those trips to suicidal tendencies. It was more like a never-ending layover in the land of apathy. No energy, no coherent thought process, no joy, no sex, no desire for anything.
If apathy were an actual place, it would look like an old deserted town on the side of a long, dusty desert road. Where the bus driver stopped for a pit stop, but for some reason you didn't get back on the bus and you were left behind. You run after the  bus for a few steps, trying to yell but all you get is a lung full of dirt and exhaust as you watch the taillights of the bus disappear in a cloud of dust. Those few steps you took in haste have now depleted every last drop of energy you had and you feel as if every limb now weighs a thousand pounds. You look around, helpless and hopeless.
You sit on the old, weather beaten bench for a while. Trying to figure out what to do next. You don't know how long you've been there, it feels like forever but it was probably only five minutes. The bench is hard and uncomfortable and the sun in scorching hot. You're more miserable then you ever remember being but barely have the energy to move into the shade.
But finally, you gather your strength and force your brain to work, at least a little. Maybe pure force of will can make you think through the muddled mess that it's your head. You stand up and turn around. There's an old shack that was once a gas station, maybe a general store back in the day. But no one seems to be there.
You walk through the old, creaky glass door, hoping to find relief from the heat outside. Only to find that you are nearly suffocated by the stagnate, hot air inside. It looks like no one has been here in a hundred years. You wipe one finger across a counter top to judge how deep the dust layer is …… to see that it has been longer then you had previously guessed. Or maybe not? It is a desert, maybe it's only been a few weeks? A glimmer of hope …. that quickly fades. You reprimand yourself for feeling optimistic in the middle of this shit hole, on the worst day of your life. Or is it? Aren't all the days pretty much the same? Who cares if you're lost here in this ghost town? You don't.
You look around a while looking for water, or anything to quench your thirst, to make you feel just a tiny bit better. Even if it's temporary. You come across an old bottle of soda pop. But it's hot. Ehh …. what the hell. You open it up and sip it. Not bad. But not good and now the sugar in it is making you more thirsty then you were before. "Great you fucking idiot, what a brilliant idea." You say aloud to yourself. The sound of your own voice sounds odd to your ears yet somehow it makes you feel a little better. You're still here, you're still alive.
You walk outside and find a vintage pay phone on the side of the building. You know there is no way in hell this thing is going to work, but you pick up the receiver anyway. Static …. then the sound of nothing, but it sounds like the line is open to somewhere …. crackle crackle ….. then the hollow sound of someplace on the other side of the line again ….. your heart races. Could someone actually be there???
"Hello? Hello?? …. if someone is out there, please help me! I'm lost and I don't know what to do! ……. Hello? Hello?"
Your pleas are met with the same hollow silence. Your heart is pounding so hard you can hear it in your hears, until the line goes dead.
"Hello? Are you still there?" Your heart drops to your feet and you sink against the old, wooden wall. Sliding down until you're a crumpled mess on the ground but still grasping the phone, just in case someone comes back on the line.
You sit there in the dirt. Unable to move, your energy completely depleted. All hope lost … or so it seems. Because something inside you won't let you, let go of that phone. It's so old it shouldn't even work. Maybe it was all in your imagination? Maybe no one was ever there? Maybe you've finally gone mad and this is where you're going to die. Lost in the middle of nowhere.
You start to doze off …. when you hear a crackle of static. A voice on the other side sounds far away, you can barely hear it but it's there. "Hello? Hello? … Are you still there? Stay where you are, I'm coming to get you."
That is basically what happened to me Monday night. I was lost in the nowhere and Remi called me from her work and asked me, "Will you go with me somewhere tomorrow? Even if I won't tell you where it is? Just say yes and trust me."
In that moment on the phone with her, I felt a bit of happiness and a little hope that the next day would take me out of the nothingness. That she would come find me and pull me out of my nowhere.