By Guest Writer, Elegy
So as I mentioned earlier I have been in a bit of a funk, and as a result of that I slipped down the Hill of Shame; I stopped eating – I'm a depression induced starver as opposed to eater- and this time I could barely force myself to eat because of the [font: sarcasm] excellent timing [/font] of a stomach virus and the resulting nausea. But, like a mourning animal, you just can't make 'em eat until they're feeling better. All this has resulted in my being really, really pissed off at myself because I want to gain some muscle and I can only do that by increasing my calorie intake, not cutting it!
Get it together, bitch!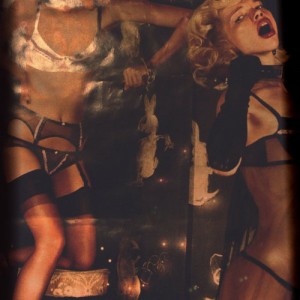 My wardrobe didn't exactly mudslide down with my mood- main reason being that for the past few years now I've systematically donated or thrown out any article of clothing that doesn't meet the following criteria: looks good on me by flattering and/or enhancing my figure; expresses a distinct style; is true to my spirit; I want it to make me feel like I can take on the world- and make it my bitch while we're at it, because why not? A chick needs all the allies she can get in this cruel world. To quote a badass rock babe: "Like, think of the world as some shoddy ex-boyfriend you're trying to make pee his pants."-Sarah Crüe, on her interpretation of "dress to kill." That quote slays me- I laugh, give a wry smirk, and it just inspires me to dress how I like and have fun with it because what other people have to say about it isn't that serious. Sometimes I'm lounging at home in underwear and a top, sometimes I'm in a neck-breaking ensemble. It's just a matter of wearing what makes you feel good, even when you don't feel it inside. You don't have anything that doesn't make you feel good about yourself; You don't make it a fucking option.

So as a follow up: it really does come down to "the little things." I started opening the curtains and letting some more sunlight in (I'm a creature of the night), forcing myself to walk dogs even though I've barely been able to take in the calories and hold them down. If it's a fight this sickness wants, then it's a fight it'll get. I've armed myself with my inspiration folders, some sunlight, and small sets of attainable goals so I feel like I've accomplished something. My mom says to set for yourself three goals, three things to get done each day. If you're able to accomplish two then you've succeeded, and some days are just so hard that even one goal is an achievement. Just something, even if it's "get out of bed and move for fifteen minutes." Write it down, then check that shit off- it's small, but it feels good.

I set a personal goal for myself that by the end of April I would get back to making an effort to dress to the 9's every day; Or, more realistically, most days! I'm not going to pressure myself to do something I don't enjoy; reflecting the spirit of the goal is more important than following it to the letter. I know myself enough that the time frame I'm actually aiming for is mid-May thru to mid-June, however by setting it earlier I will expect more from myself, and I actually will end up meeting my true goal from that positive form of pressure. If you tend to procrastinate, set your goals a full half time earlier than you actually want them done by.
Sincerely,
One pissed off, hungry, nauseous, kind of smug, still kicking, still fighting, vain and monstrous devilette. She'll be back.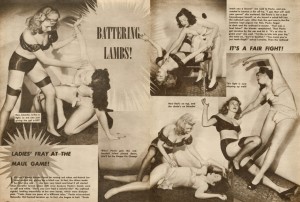 Author's note:
I wrote this in mid-April, and now it's May so I was right- haha. I'm not to the 9's every day, but I'm slowly getting there. I'm eating more, laughing more, smiling more, and putting an effort into what I like, what brings happiness to me. Is it superficial? Eh, if you want it to be. That's not the important part. What's important is that you're making that effort, through doing this possibly superficial things, you are making a deep shift in your consciousness. You are telling yourself, "I am worth it to me to set these goals, to start these projects, to just set aside some time to do what I like." Fuck anyone who tries to bring you down for that.