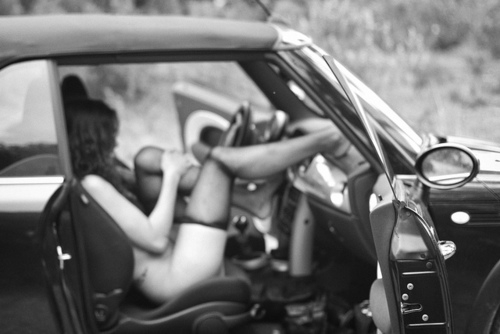 I couldn't shake the feeling that this wasn't just some lucky coincidence. I knew I was being paranoid, but after years with my sociopath of an ex, you couldn't blame me for being suspicious. Over the three years we were together she broke me down in every way possible. Part of me knew what she was doing was wrong and manipulative. Designed to make me put up with her emotional abuse. But part of me, the bigger part believed the horrible things she told me. I never thought I was attractive and since the breakup I was convinced I was ugly. Now here was this sexy butch, calling me beautiful and flirting with me. Where were the hidden cameras? No way was this legit.
I looked up at her and she still had that questioning look, waiting for me to tell her if I was OK or not. I couldn't even pretend anymore, I just blurted out, "Who are you and why are you being so nice to me?"
She took a step back and put her hands up as if to say she meant no harm, or she was stepping away from this situation, which was totally understandable. I mean, if she was just being nice, then I was being insane. Who wouldn't back away from an ugly, insane woman?
But instead of turning on her heel and leaving she just said, "I'm sorry if I did anything to offend you. I swear I'm not some pervert just trying to hit on you. Err … Well, I guess I'm hitting on you but I'm not a weirdo you need to be afraid of. I'm sorry if I've scared you. My name is Erin. I was just drying my car off over there" as she pointed to a silver BMW sitting with its doors opened, freshly washed. "I saw you drive in and look for change. I took that as my excuse to speak to you. I'm sorry if I offended you somehow. I'll leave you alone. Although, you can still have the change."
With that she pulled a roll of quarters out of her front jean pocket, the other hand still up on the air as if she were in a hostage situation. And she slowly put the roll on the hood of my car and started to back away with a cute shrug of her shoulders and half a smile.
She was so sexy! Everything about her from the way she gave me a crooked smile, to the way she was carefully backing away from me had a mixture of mockery and flirtatiousness. Usually I'd be pissed at someone for being condescending but I was actually impressed with the way she was dealing with me. I mean really, I had been nothing but difficult and she had been nothing but nice.
I was being crazy. Of course she didn't know my ex. In fact, I was giving my ex way too much credit!
"I'm sorry!! No, wait! Don't go. Let me at least give you money for the change." I bent down into my car, reaching across to the passenger seat where my purse sat. Digging inside it, looking for my wallet I felt her come up behind me. She didn't touch me, but I could feel her right behind me. She was blocking the breeze and I could almost feel heat coming off of her. I could feel my face flush at the thought of what her view looked like! My ass up in the air as I bent over and crawled over my seat to my purse. For a second I felt …. Sexy. Something one of my butch friends told me played on my head, she had once told me, that butches are like men in that they love curves on a woman. None of that skinny Hollywood shit. They wanted some cushion for the pushin. I smiled at the thought, because I definitely had that, but I had always had really good legs and I was hoping she was thinking so too.
I finally found my wallet but before standing up, I stayed on my knees and turned my head to look over my shoulder, holding my wallet up to show her I said, "Here it is!"
But I had caught her, doing exactly what I had hoped to catch her doing. She was staring at my ass and smiling. She quickly moved her eyes from my bottom to my face and gave me the most gorgeous, unabashed grin. She cocked her head to one side, looked at me and said, "Nah, keep it. Please I don't take money from ladies. Plus, consider me paid in full." She let her eyes slowly work their way down my body and rest for a beat, squarely on my legs and ass. Then she looked me in the eye again and smiled.
I was a bit shocked at how brass she was! But also really turned on. I had never had a woman hit on me so brazenly, take me in with her eyes like I was the most exquisite thing she had ever seen and not care that I saw her do it!  It was having a really bizarre affect on me. I was feeling beautiful. I was feeling a little sexy and I was feeling …. Powerful? None of which were familiar feelings for me. Why was I feeling powerful? When she was clearly the one with all the power?
I crawled back out of my car, stood up and turned around to find that she hadn't moved at all and now we were about six inches away from one another. I don't know what came over me but I was starting to feel like someone else. Someone who doesn't care about her ex, someone who might want to have a little fun.
So I said, "Well if you're paid in full, how much more do I have to give you to get you to wash my car for me?" I looked her in the eyes, she had beautiful, hazel eyes. Then I let my gaze fall to her lips. Her lips were fuller then I had realized. They looked so soft. I wanted to bite her lower lip, I must have gotten caught up in my day dream because her voice brought me back to reality.
"I'm sure we could work something out" and with that she stepped in closer and pushed me up against my car with her body. Her hands were still at her side and she looked at me, as if waiting to see my reaction. But I wanted to see what she was going to do, so I held my ground and simply looked at her. Daring her to make her next move.