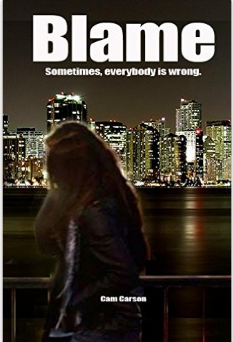 The following is a guest post by author, Cam Carson
I think it's tough for some to internalize the way that the LGBTQ+ community is hurting right now.  
I first talked about it to someone else on Monday afternoon, the day after the shooting in Orlando.
The entire conversation was about three sentences. I sank into a chair at a cafe to meet with a group of community organizers about something unrelated. One of the other organizers asked cheerfully, "How was your weekend?" 
For the first time that I can remember in my life, I didn't obey the reflex to flash a smile and respond "fine."
We're not fine. Of course we're not. We're horrified and hurt and scared. 
This event, and the homophobic reactions to it across the world, have shown us that society still has a long way to go when it comes to recognizing us as people—as a group of people as diverse and as normal as any other. 
We might feel helpless—I certainly felt helpless. I wasn't sure what to do. What could I possibly do to make things better?
And that, for me, has been the most important emotion to fight against. We are sad, but we are not helpless.
We can write to our state representatives as insist that laws need to change. We can write to the FDA and insist that men who have sex with men be permitted to donate blood. These efforts will probably will not succeed immediately, though. They will take time.
What we can do right now is take care of ourselves, and take care of each other. We can check on our friends in the LGBTQ+ community. We can help straight allies understand what more they can do to help besides just being 'cool with' us. And we can give to the victims in Orlando who still need help to heal. 
That's what I'm choosing to focus on. A while back I wrote a romance novel called Blame: it focuses on two women and it strives to treat them as people—not tropes, but real characters with character development and rational thoughts and fears and reactions just like you or me. 
For the next 28 days, all proceeds for the book will go to the victims in Orlando. And up to $2500, I will also match those proceeds. I wrote a blog post announcing this on Goodreads, read it here.
And you can purchase the book here.
The book is serious, but it has its funny parts: I hope it can bring a smile to a few faces that really need one right now. And I hope that it can also help many of us to support our family in Orlando who needs us.