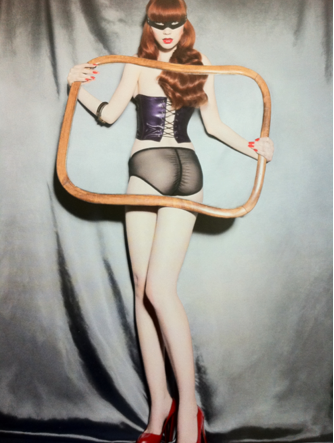 By Guest Writer, Elegy
What do you do to get out of a funk? Some people say "mind over matter" but I can't help but wonder how many of those people are battling against their own mind, which seems determined to undermine our very efforts to get back on track by continually misfiring like a sadistic ex-bestie that you're trying to make nice with. Oh, what's that? We're actually business partners instead? Great. So what the hell do you do when you want to get out of a funk? And I don't just mean faking it until you make it- that's all well and good for chores and responsibilities, but what if you actually want to enjoy life? Stupid fucking funk.
What I like to do is look at my inspiration folder, which I'm currently in the process of cleaning out so what I have comprising only of images that evoke and immediate response in my soul. It should be bam-bam-bam-stimulus-bam, I shouldn't be bored or have a lack luster reaction. Likewise, I am slowly cleaning the house- a de-cluttered home means a de-cluttered mind and all that. Turns out, that little ditty actually isn't bullshit. Normally I'd listen to music as well, but due to errors of the technological variety, trying to source music would afford me more stress than reward- I did put together a Youtube playlist geared specifically towards motivating me for chores (oddly enough, it seems that for now it's Country that gets me broom-sweepin').
But for now it's just like trying to run underwater, all I can do is keep trudging on in hopes that when I make it out that I'll be stronger and faster from all that resistance training. Who knows, maybe it's a planetary fog and things will clear up soon.
Elegy