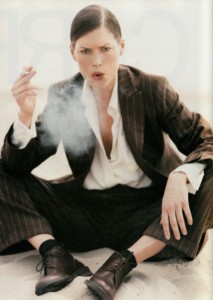 My love for all things butch is well documented in the pages of CCL. But that doesn't mean I understand the layers and complexities of the identity. In fact, the more butches I know, the more I realize, I don't know diddly.
For instance the one thing I will never understand is why butches are so damn hard on one another? I have butch friends that think Remi is also butch, and some that think she is not even close. It doesn't bug her at all, since she's one of those "label free" lesbians. But I find it endlessly intriguing. And even among the people that don't see Remi as butch, they all agree that she's the "butch in the relationship."
In my experience, every single butch I've met has a different idea of what being butch means. Which is great! That's what makes it interesting and an ever-evolving culture. What I don't get is when butches put other butches down with saying stuff like, "She's not really butch," "She's not butch enough," "A real  butch would never do/say/be/wear that."
Personally, I think that being butch is more about your mentality then your wardrobe. But that's just me. I'm putting this to you, the reader to tell us what YOU think makes someone butch and why do butches judge other butches so harshly?