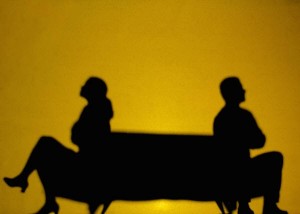 When you're friends with a couple that breaks up, the friends of the couple usually have to decide who gets custody of which friend. Sometimes it's clean cut: you leave with the friends you came with. But that only works when you've known one of them longer then they were a couple.
What happens when you met them as a couple and befriended them as a unit? How do the friends caught in the middle stay friends with both parties?
Very very carefully!!! Recently I've had 2 1/2 couples breakup among my friends. I say 2 1/2 because one of these couples is still going through it and is currently in that, "let's say we're working on it when we all know we're just not done torturing ourselves yet" phase.
But when the other couples split and I found myself torn between both of them, I took as neutral stance as possible. I let them all vent and cry on my shoulder. Being careful not to use the usual friendly support terms common in these times such as, "you could do so much better", "I always hated her", "that bitch!"
Instead reaching for true yet neutral commentary such as, "sometimes love just isn't enough", "I think you're both good people but you brought the worst out in each other"  and my last but least favorite, "time heals all wounds."
See, when you can't take a side and you're walking on eggshells your support speeches are severely limited to the lame and the cliche. But what choice do you have? After you repeat those few lines enough times to make you want to stick a fork in your own ear the only other thing left to do is to slowly back away.
I found myself slowly backing off of my friends and I hated that. But after a while I realized I couldn't fix their problems for them, my 3 or 4 neutral comments just weren't cutting it, and that I felt guilty even listening to one party talk about the other. Even though I never paid into it, I simply listened. It messes with you head and your loyalty. Are you being disloyal to one friend by not defending them? But you love the other friend too and see where they're coming from so you just sit there and listen.
That's sort of what happened here, in front of all of you. Two of my friends have been going through a break up and unfortunately some of it spilled onto here. Some of you may have wondered why I let it go on here. And that's part of this blog. Because I didn't want to pick sides. I didn't want to censor. And because lesbian breakups happen and I thought that maybe, depending on the post, someone might find some help or comfort in seeing that they weren't the only ones. That's why I share my personal demons on here, because it helps some people to know they're not alone.
But as we all know it went to a dark place and everyone was getting uncomfortable. It was sort of like a really really awkward dinner party where you're invited to someone's house and then the hosts end up fighting in front of you. You look around the table at the other guests to see their reaction and you're all equally mortified and not sure if you should leave or stay. Then one or two people who think its gone on far enough might pipe up only to be bitch slapped back down to their seat and told to finish their dinner! So we're all sitting there, like children watching our parents fight. Our tummies hurt, we feel sick but we can't help. Because we're just little kids and we shouldn't be seeing our parents fight like this. We are going to need therapy after this.
I don't want this blog to be just about what went down here last night. We were all at the same dinner table. We know what happened. But I do want to let you know what has happened since I think you all deserve to know a little bit at least. I woke up to apology texts from both parties. They know it got out of hand and they're sorry. They didn't mean for it to go that far. I totally get it. Breaking up is hard to do, that's why they keep writing songs about it. Of course I instantly forgave them. They're my friends. They are still part of the CCL family and are welcome to post in the future. I just think they need some time to live their lives in private and to let themselves heal. I love them and will be waiting for them after their time out.
As for our other friends that you all don't know, going through similar things albeit not on a blog for the whole world to see ….. Well …. That's just as hard. How do you stay friends with only half of a couple when they break up? Or even harder, how do you stay friends with both? Especially when there is no "bad guy" in the situation. Only circumstances that couldn't be helped? Only two friends that loved each other and now don't. It's so sad to see this happening to some of our friends. And in a narcissistic way it also scares me a little. All of these couples have been together longer then Remi and I. It's hard not to look at them and say, "Could that be us in a few years?"