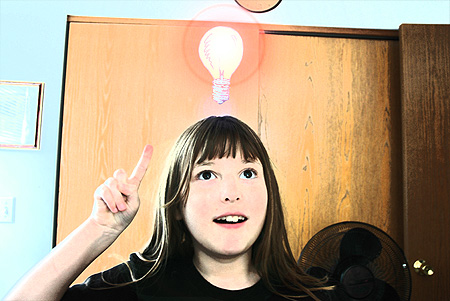 When you realize you're a lesbian ….
I'm in a constant state of awe at my total lack of self-awareness as far as figuring out I was a lesbian. I mean really, how could I not have figured out I was gay before the age of 24!?
I mean I could understand if I was bi. But I'm not. I'm just gay, I'm sooooooo gay it's hard to fathom that it took me SO long to figure it out.
My girlfriend is one of the lucky ones, a lifer. She's known her entire life since she was a little tomboy trying to impress all her older sister's friends that she was a lesbian. Before she even knew the word for it, she knew what she was. God how I wish I could go back in time and tell my younger self, "Hey don't waste your time on him. It's his sister you really want."
I can't help but try to imagine how different my life would have been if I had known back in high school when I started dating. How smooth I'd be with women by now if instead of honing my skills on the more brutish of the species I had spent that time sweet talking the ladies. I also wonder how many women I would have slept with by now. No doubt I would have been a huge slut and slept with every girl on my cheer squad, every girl on the basketball team and even a few on the softball team. Then by the time I got to college I'm sure I would have been nothing less then a total mac.
I even wonder how knowing so early would have affected my style. Would I have ended up more butch? More tomboi/sporty? Would I have pushed for those karate lessons I wanted so dearly in lieu of all those ballet classes I took for twenty years? Maybe if I had known I was a lesbian in my formative years I might not have ended up such a femme?
Hmmmm ….. I really wonder what affect it has on one's identity within the lesbian community at what age you come out, at least to yourself. Do lesbians that know from an early age tend to be more butch? Are femmes girls that didn't have a clue till after they had molded themselves into societies idea of a lady?
What do you think? Does knowing you're gay early in life affect what type of lesbian you're going to end up being? Or is a butch a butch and a femme a femme no matter when the proverbial light bulb goes off that says "Oh, I like girls!"