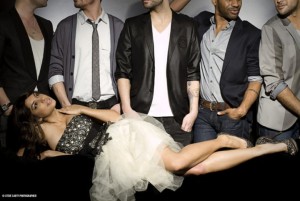 I am obsessed with the TV show 1 Girl 5 Gays! Does anyone else watch this?! Remi and I record it to watch in the morning over coffee because we are so intrigued with gay boy culture. Or should I say, the differences between the gay boys and the gay girl cultures?
I have often said that I wish lesbians were more like gay boys. I wish that we were more flamboyant, more colorful and more forward about sex. Watching 1 G 5Gs only furthers my suspicions that gay boys are having more fun then us!
As an all male culture, they seem to be hyper sexual and very forward about it in some ways. Why can't we be like that? And before anyone jumps down my throat about stereotyping one side or the other, let me give you a very real, very good example of what I'm talking about.
If you go to any lesbian bar out here in Los Angeles, even the so-called hot spot of the moment to see and be seen. That's the majority of what will happen, a lot of looking, not enough touching.   You will see a lot of sexy women and they will see you. But talking to anyone new is a whole other story. I have often felt like my nights in Girl Bar were more reminiscent of a 6th grade dance then a West Hollywood nightclub. Bois lining one wall and the femmes on the other. Everyone wants to dance, but no wants to be shot down. Hence, no one makes a move.
Sure there are always the sprinkling of brave and or drunk souls swaying on the dance floor, oblivious to the world around them. Then there's the group crowded around the go-go dancers, with a hopeful smile as they look up at her, waving their one dollar bills dangerously close to her naughty bits, hoping to bribe her over to their side of the platform, if only to give them false hope, that she wants more then their money.
But for the most part, people tend to stay with the people they came with. As a general rule, lesbians in this town appear to be very clickish. I recently had a few readers email me and ask why LA  lesbians are so mean!?
Here is my answer to that: I don't think we really are that mean. OK, we're a little mean. At first, but if you manage to get past the initial icy stares, we're usually friendly people. Maybe this topic alone, deserves it's own blog post? Something like, Deciphering the LA Lesbian? Stay tuned for that one. But I digress.
LA is like high school on crack. Very clicky. Very image oriented. Very status conscious. Even the nice girls tend to care what they "look like" to others. As in, are they seen as desirable and someone cool enough to talk too? That alone can keep a nice girl from appearing too friendly, lest her natural smile at strangers invokes an unwanted come-on from the only person in the club not afraid of rejection, because it happens so often to them they're immune. You know, that one person that creeps you out and can't read body language or understand the word "No."
I'm speaking from personal experience. I like to think that I'm a very nice person, I'm friendly, easy to talk to. Yet I have been told from strangers that I look like a total bitch in clubs. That look on my face, that's misinterpreted as bitchy should have a thought bubble over my head that reads, "My feet hurt in these stupid stilettos. I look fat in these jeans. I hope they play some old school hip hop so I can get my boogie on. OMG I think I've slept with that bartender! Did my wife notice me staring at that bartender? Wait, is SHE staring at the bartender? I think I have a headache."
Basically, whatever look on face that makes me look like I'd bite your head off if you said hi to me, is really just a misrepresentation of me being distracted and probably in some amount of pain from the shoes I wore to try to look sexy.
But this is all part of why I wish lesbians were more like gay boys. Because on any night of the week, if you walk into a gay bar filled with men, you will be greeted with smiles, hellos and random impromptu dirty dancing flash mops. Seriously! Gay guys are awesome. They're friendly, talkative, forward and open. When one guy likes another one, he goes up and talks to him! Or dances with him, or just kisses him. I've seen this happen with friends of mine. They don't waste any time!
Gay boys are more action oriented then lesbians. While lesbians tend to get caught up on their heads, playing out the worst case scenario, if they dare to go up to that hot girl. Gay boys are actually doing something! They might be getting shot down more then us, but they're also probably getting laid more then us! It's all a numbers game, ladies. And you have to play to win.
I guess I could oversimplify this entire situation by putting it this way: in the straight world, men are expected to make the first move. Women are expected to play hard to get. Now trade that in for the gay community and we've got two guys, twice has much testosterone, twice as many penis wielding horny men in the mix and no woman to put the breaks on. Then in the lesbian camp we have two women playing hard to get, two women waiting for the other to make the first move and two women thinking way too much. It can take forever.
I would love it if lesbians took a few lessons from gay guys on how to be more fun, more friendly and more open to new experiences! But until that happens, I've decided I need some more gay men in my life!! Since I'm already taken and no longer playing hard to get for anyone other then Remi (yes, she still has to work for it). Gay men seem like the answer to our night life woes. They're gorgeous, funny and friendly! What's not to love?