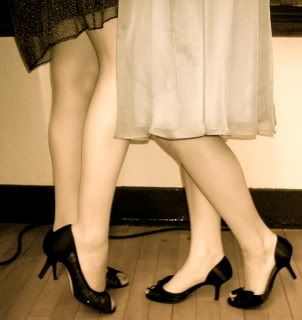 Before Remi moved in she was my girlfriend. But as soon as we shared a mailing address we all of sudden were relegated to "partner" status. WTF is up with that?
Reasons I am less then fond of the term "partner":
It makes us sound like a pair of 50yr old lesbians that belong to a senior bowling league, garden and wear mom jeans.
The term girlfriend sounds so much more fun, sexually active, young and carefree. The term partner sounds like we're on the waiting list to adopt a Cambodian child after we get back from our tour with the Peace corps.
Being partners sounds like we're both vegetarian, animal rights activists, environmentalists hippies that obsessively read labels and then loudly proclaim how dangerous parabens and sulfates are in the aisles of the supermarket. But I'm the only one that does that, my "partner" just rolls her eyes and walks away pretending not to know me. Not too mention that she eats meat like it's going out of style while I drool over my fried tofu.
Somehow the label partner easily gets rolled into "domestic partner" which sounds even worse! Now instead of adopting a gaggle of orphans it sounds like we've become those scary old cat ladies down the block with twenty cats and a few ferrets for good measure. You know the one's I mean, the ladies who wear pictures of their cats on their tee shirts and drive mini-vans that smell like cheetos.
Once we've hit "Domestic partner" status "Life Partner" is just a hop skip and a jump away! Oh gawd …. every time I hear that my gag reflex kicks in. I mean seriously. Straight people don't have to go around defining the state of their relationships as intricately as we do! You never hear Bob say, "This is my life wife" or "This is a very serious relationship as you can tell by my use of extra qualifying adjectives I put in front of her name when I introduce her." Nope. Breeders simply introduce their significant other and people just smile and accept it.
Partner also sounds like either a) we've opened a business together or b) I'm trying too hard to be politically correct. Which in itself can be seen two different ways:
1) Am I trying to avoid saying I have a girlfriend as to avoid the judgmental looks of whoever I happen to be speaking to … or … 2) Do I think that the term partner is the best us gays can do till Prop 8 gets overturned and we have the right to use the term wife or fiance like everyone else?
Last but not least, I might as well introduce my "partner" as, "This is my lover, Cindy." *cough*gag*gag*
Why is the term partner seen as more serious then girlfriend?
Is it the gay version of fiance?
Is it the politically correct term for shacking up? I
s it just our way of getting a deal on car insurance and a Costco membership?
In our case it's not a label we've embraced on our own. It was just sort of thrown on us by well meaning people who thought they were being respectful of our "alternative" lifestyle.
Well anyway you look at it, I don't like the term for my relationship but I respect it when others choose to use it. As of right now, I have a girlfriend. Period.