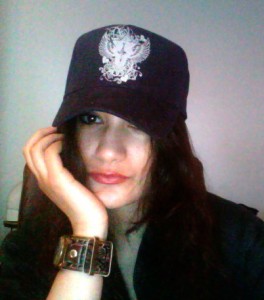 The other night I was hanging with my gf after a particular painful night at the gym. I was pretty beat, sore and hungry. After a few hours of hanging out, I failed to jump her bones at the appropriate moment. Partly because she had said something extremely stupid a few hours earlier (which I will dedicate an entire blog to soon) and also because I had gotten hit in the ribs earlier in class and couldn't fully inhale without coughing.
As soon as I pulled away from her, she hit me upside the head with this remark, "Considering all the stories I've heard about you, from before I got with you, you're surprisingly not what I expected."
The next sound I heard was my relationship coming to screeching halt…. Wait. What the hell does that mean?
"Please explain yourself." I said with as much calmness I could muster over the defensive tide that was quickly bubbling to the surface.
"Well, I mean I've read all your old blogs…." She explained.
And ???? …. I didn't actually have to voice that, she got it from the look on my face so she continued.
Pausing here and there trying to carefully weigh her words, "I just mean you seemed so sexual in your blog. When I first met you, you seemed SO overtly sexual. But now, with me … you're just not."
Wow.
Ouch.
Great.
Nothing like not living up to your own hype! Holy crapola. I knew my blog would come back and bite me, but I had no idea it would bite this hard.
I didn't really have that much to say. Was she blaming me for our less then XXX evening? Couldn't she understand that I was in a lot of pain, sleep deprived and starving? Ok, not starving since I scarfed down some Taco Bell right before this revelation. But still.
I had been in other relationships where sex was expected on every date. I was fine with that. I was better then fine. I was great with that!
But these women were not my girlfriends (yes, I'm aware how bad that sounds) and I didn't see them as often as I see my girl. I see her almost every other day, if not every day. These other pseudo-relationships were hot and heavy sure, but it's easy to put on your porn star persona once or twice a week. But every night, after a long hard day? Maybe every night just isn't going to measure up to that level of mind-blowing, acrobatic, screaming at the top of your lungs till the cops come knocking, kind of sex.
Another factor I felt she hadn't given enough credit to, for our lack of sexual Olympics, was the lack of privacy we have. We are both in room-mate hell right now, which lends itself to a lot of public sex. (Which call me crazy, can be pretty hot and always is.)
So after a night of sleeping on this problem that I didn't even know we had and on my sore ribs, I woke up nauseous and for the first time in our relationship, feeling claustrophobic. A feeling I was all too used to from past dating experiences. But I thought this one was different.
I had decided before I even opened my eyes that morning that I wasn't going to talk to her that day. That I needed "space."
But after several apologetic texts, I gave in and spoke to her. But to my surprise, hearing her voice only made me feel worse. So I cut it short.
She met me at my gym before my Muay Thai kickboxing class bearing little presents she knew would go a long way in melting the ice. But I had to get to class before she had enough time to really make any dent in my bad mood.
It wasn't until after 2 hours of fight classes that I felt better. I guess I just needed to hit something to clear my head. But as soon as I got out of the gym, we talked … and talked … and true to lesbian relationships, talked some more. Ugh.
Eventually it came out that:
She wasn't complaining about my sexual prowess. But was insecure about hers due to things she had read on this crazy website called cardcarryinglesbian.com.
Whew! Thank god, my reputation was still in tact.

But really, what we finally realized was that every time we do have sex it's always amazing. When I say amazing, I mean, fucking hot! Up against my car on the street. In my backseat. In her front seat. Up against her car in the middle of the night in Long Beach. Outside at a park. The beach. Life guard towers. While we're driving home after a club …. the list of public and inappropriate places goes on and on.
So maybe we only have sex 2 or 3 times a week. But when we do, it's ridiculously good.
What exactly was her point that night? We discussed that and decided it was just her night to be an ass. Everyone gets at least one free pass.
She apologized. I accepted.
So, now we're off to have sex in a dark corner of GirlBar to celebrate my birthday today!!!