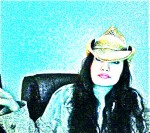 OK, so I promised I would do it and here it is. Personally I think it's super weird seeing and hearing myself on video. Totally freaks me out and makes me want to get collagen lip injections. But whatever.
By the way, AWESOME freeze frame, don't ya think??

Sheesh … what I do for the laaaaadieeeeeez.