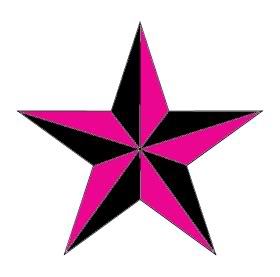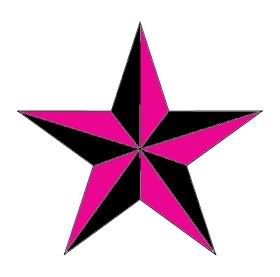 OK, so how many of you already knew that a tattoo of a nautical star used to be and may still be used as a sign for gays and lesbians to recognize one another on the street?
Is it just a nautical star or any star? Because that would explain a lot of star tats I've seen on some of my friends. Yet no one bothered to fill me in. I only came upon this little factoid of lesbian herstory listening to the lyrics of a song called butchfemme.
I'm curious as to what other secret codes do my fellow lesbian sistas use to wave the rainbow flag to one another in public without the whole (breeder) world realizing? Not that I care in the least about subtly. Shoot, I seriously wish we all walked around with a "Soooooo gay" button on our shirts just for the hell of it.
Well these are the sub rosa signs I've heard of:
All lesbians wear a silver ring on their middle finger. Check.
If a girl is a tatted up, she's probably family. Not counting the California license plate that seems to be a requirement for every straight hoochie mama.
Extra body piercings. Check by proxy on this one, my girls got a few of those.
I remember a while back there was a little campaign that never seemed to really pick up steam where girls wanted to wear a purple yarn bracelet or something like that. I never got into that one, since I like my bling to be a little more blingy than something my grandma would knit with.
Short hair. But this only really works with butches and tombois and the occasional femme who's usually dressed more eccentrically, like pin-up or rock-a-billy.
Other then that I can't really think of any sure fire symbols we can adorn ourselves with to warn other women that we're not just being friendly, we're hitting on them.
So if you know of any other lesbian signals, or you do any of the ones mentioned let me know. I'm actually really dying to come to a consensus on this one.